The ball came so close to the fence at the Lawrence Tennis Center that Jim Stoner nearly collided with the chain link trying to return the shot.
That relentless hustle helped the No. 1 seed in the men's open division of the Lawrence Open tennis tournament clinch the first set of a dominating 6-0, 6-1 quarterfinal victory Saturday over Lawrence resident Prashant Patel.
"This is the first tournament of the year for me, so I was a little unsure what was going to happen, but I got a couple of games under my belt. A lot of it's about rhythm at my age," the 37-year-old Stoner said.
Stoner's strong serves allowed him to take control.
His service technique differs from most players. He guides the racquet up with two motions before he makes contact with the ball. It can be paralleled to the unorthodox golf swing of PGA tour player Jim Furyk.
"I stand a little bit more sideways than most people," Stoner said. "It's probably the strongest part of my game. My serve has bailed me out and gotten me free points."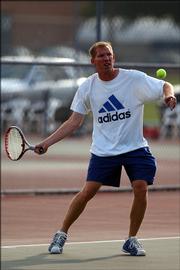 Stoner didn't fair as well in the semifinals against Overland Park resident Mike Harmon. Harmon constantly stayed one game ahead of Stoner and set the tone early, exploiting Stoner's backhand weakness in a 6-4, 6-3 victory.
"Mentally, if you can get up, it kind of raises more doubt in your opponent, when you get that first game in the second set," Harmon said.
Harmon said this was the first time he competed in the Lawrence Open. He said his greatest strength Saturday was his fitness and endurance.
The 25-year-old also defeated Lawrence resident Christian Wingerter, 6-0, 6-3, earlier in the day. He said he was unfamiliar with the play of Javier Gomez, whom he will face in the finals today.
After his two matches Saturday, Stoner left to attend the funeral of a fellow teacher from the elementary school he teaches at in Higginsvile, Mo. Stoner said tennis allowed him to take his mind off of the situation. Stoner said the teacher was 31.
Copyright 2018 The Lawrence Journal-World. All rights reserved. This material may not be published, broadcast, rewritten or redistributed. We strive to uphold our values for every story published.