When Margot Keizer first met Michael Zigmont, she was with a group of friends having a drink after work. Michael had been invited by a Wall Street co-worker, who was Margot's former classmate at the University of Virginia.
Ah, networking.
"We liked one another," Margot, 26, recalled, "but at first I thought Michael was terribly opinionated, especially about France."
Michael, 30, says he was only trying to get Margot's attention.
He got it.
After a few more group encounters, they went on a real date, just the two of them.
"Liked it a lot," Margot said, and it led to "some serious dating."
After six weeks of dating, Margot returned to her hometown, Lawrence, to work for her dad and to be with family, "especially my grandmother, Simone Johnson."
Margot was convinced Michael had been a summer fling, and "I thought I'd think of him fondly and move on."
But Michael was just getting serious.
"She flew the coop," he said.
Audio Slideshow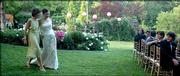 Couples - Keizer and Zigmont wedding April 13, 2006
"I had to make it a little bit hard for you," she said.
"It was worth it," he said.
For a year and a half, Margot shuttled back and forth to New York nearly every three weeks to see Michael, with a lot of telephone calls and e-mail messages in between.
In April 2005, Michael invited his Kansas friend to go skiing in Vermont so they could celebrate his 30th birthday. The night before their trip to Stowe, they had dinner at one of their favorite New York restaurants, the Aquagrill in Soho.
"We got so much attention when we arrived. 'Your table is ready, Mr. Zigmont,' which is not the norm there," Margot recalled. In the past, with reservations, they usually had to wait for a table.
Michael's plate under their first seafood course came with a little happy birthday message.
After a lot of stone crab, snails and oysters, dessert arrived with Michael's name spelled out in sugared icing.
"The waiter had barely set down the plates when Michael pushed his table away, dropped to one knee and told me that what he really wanted for his birthday was for me to marry him," she said.
When she said yes, diners around them broke into applause.
"I knew it was going to happen eventually," the bride-to-be said.
"Don't let her fool you," Michael said. "She was surprised."
They were married May 13 in Lawrence on the lawn at the Williams House, 700 Calif. The outdoor ceremony included friends from Holland, Canada and the East Coast. Several of Margot's college classmates were there. Some recalled her bout with Hodgkins lymphoma and chemotherapy during Margot's junior year at Virginia, which scarcely kept her out of class or away from her job in a Charlottesville shoe store.
Douglas County District Judge Paula Martin conducted the wedding. Years ago, Margot baby-sat the judge's daughter.
A sit-down dinner for 140 followed.
Margot said, "I was all for making it easy, just go to Aruba with our parents, get hitched ... but Michael wanted a real wedding."
He got it.
Copyright 2018 The Lawrence Journal-World. All rights reserved. This material may not be published, broadcast, rewritten or redistributed. We strive to uphold our values for every story published.