His drives don't follow the most distance-friendly path. They fade, which steals yards, instead of draw, which adds yards. His putting stroke is on the herky-jerky side, yet his long ones almost always seem to come to rest close to the cup.
As a golfer, Lawrence High football coach Dirk Wedd doesn't earn as many style points as most 8-handicap players. Then again, Wedd never has been concerned with the look of anything but the final score. And, for the record, his drives go high, so it's inaccurate to say he's opposed to putting the ball in the air.
One of the town's talented teachers of golf could improve Wedd's already effective drives.
"I've never taken a lesson in my life," Wedd said. "I don't need to spend $300 on a bunch of lessons. I don't need $8,000 clubs. Some people might have a hard time believing this, but I really don't take golf all that seriously. It's not like I stay awake at night thinking about how to become a better player. I play because I enjoy being outdoors, and I like playing for a little something."
And he enjoys relentlessly needling and being needled by his regular playing partner, former LHS and Free State basketball coach Jack Schreiner.
Photo Gallery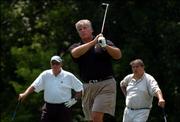 In search of a scoring drive
"Jack's always calling it a slice, but it's not a slice," Wedd said. "It's a power fade."
Outwardly, Wedd and Schreiner gently root for each other to hit poor shots. Inwardly, you know they're rooting much, much harder for bad outcomes.
Once, hitting first, Wedd aced the 210-yard Par 3 No. 7 at Alvamar Golf Course with a 7-wood. Schreiner followed by hitting his tee shot within inches of the cup and was too furious to putt out.
During a recent round at Eagle Bend, KU student Jared Repola shot a 74, Schreiner a 76, Wedd an 81. I checked in with a 100. Too bad it wasn't a test.
During the season, Wedd's days start with him in the classroom at 7 a.m. He's not home until 8 p.m. June and July are his rewards. He runs the weight room at LHS from 6-10 a.m. and often follows that with a round of golf.
Words of wisdom
"Golf is a gentleman's game. If you're a jerk, the people you're playing with will remember it for years. Don't be a bad actor. Don't be throwing clubs around. Your reputation is going to follow you, and it won't matter how good a player you are." - Kim Richey, Executive Director, Kansas Golf Association
Wedd became hooked on golf as head baseball and assistant football coach at Pratt Community College. After that, he became an assistant football coach at Wichita State. When a new athletic director came in and fired the coaching staff, Wedd was out of work for one day. The AD met with him the next day and asked him to stay on and run the program until a coach was found and then stay on as the new coach's assistant. The AD's name? Lew Perkins, who eventually folded the program.
Before Perkins came to Wedd's town, the LHS football coach was sharing a cart with former KU football coach Terry Allen at Alvamar Country Club, playing in Roy Williams' foursome.
"It was the morning after Bill Guthridge quit at North Carolina, and all the TV cameras were out there to talk to Roy about it," Wedd said. "Terry and I were both coming off bad years, and Terry gets out of the cart and says, "I just want to let you all know Dirk and I are staying. We're not going anywhere." Roy talked to them and let them know they wouldn't be following us around the course."
Williams stayed, then left. Allen was fired, and Wedd is entrenched in his dream job, inching his alma mater back toward the glory years.
Tip
By Randy Towner
You want to leave the practice green feeling good. To get the most out of your time, putt 10-footers. If you miss a three-footer, that's negative feedback. You're telling yourself you should make that one. If I make a 10-foot putt, I feel good about that. If I miss one, well, I've missed lots of 10-foot putts. If I make one, I've got confidence. From there, then you go back to 15 feet, then 20 feet.
- Tipster Randy Towner is the head pro at Alvamar Country Club
This week in golf:
Hole
No. 7, Eagle Bend Golf Course
Par: 4. Yards: 446 (championship tee)
The Cat Stevens lyrics "Trouble, oh, trouble set me free" might play over and over in the head when attempting to make it through this hole without a blowup. The No. 1 handicap hole on the course offers trees to the right, more trouble on the left and a green that leaves little room in the back before the forest encroaches. Sand bunkers threaten to the left of the green, and a steep slope awaits to the right. Stay calm, don't get greedy, and play for a bogey.
Copyright 2018 The Lawrence Journal-World. All rights reserved. This material may not be published, broadcast, rewritten or redistributed. We strive to uphold our values for every story published.