Wouldn't you like to help make decisions on new Girl Scout cookie flavors?
That sweet duty is one of Jeannie McClure's tasks as a volunteer for the Girl Scouts of Kaw Valley Council. The Girl Scouts are already making plans to add a new cookie to Douglas County sales next winter.
"I know what it is. I can't tell you, but it's yummy," McClure said.
She has volunteered with the area Girl Scout council for eight years since her stepdaughter, Libby, then a fifth-grader, and her troop needed a new leader.
McClure jumped at the opportunity to get involved, especially after her time as a Girl Scout where she grew up in Boulder, Colo., near the Rocky Mountains.
"In Colorado, we had the mountains for our playground. Here in July, it's hot," she said. "Camping was a huge part of my Girl Scout experience. That's why we are so lucky to have the Hidden Valley Camp here."
Fifty years ago, the council purchased the camp site near Bob Billings Parkway and Kasold Drive in West Lawrence with money from the fortune of Lawrence bachelor Alfred Bromelsick, who left his wealth to youth groups of Lawrence.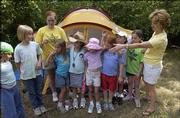 McClure was a troop leader for three years.
Now, in addition to her duties organizing the annual cookie sale, McClure is vice chairwoman of the Friends of the Hidden Valley. She accepts reservations from Girl Scout troops who camp in the rugged land.
When she's not attending Girl Scout meetings, McClure works in technical support for DataTeam Systems Inc., the company that sells financial software to nonprofit organizations. She moved to Lawrence 22 years ago to attend Kansas University and graduated with a bachelor's degree in English in 1993.
Now, she spends time with her husband, Kirk, a KU urban planning professor, and Libby at their home near downtown Lawrence.
Audio Clips
Girl Scouts
After many years of Girl Scout involvement, Libby will return to her mother's hometown next year to start school at the University of Colorado. McClure said she cherishes the Girl Scout activities she took part in with Libby and others in the troop.
"I really think it helps girls and their families that can't afford to pay for the $110 annual soccer season," McClure said. "Girl Scouts are great for character building."
Which is why McClure will continue to try to work to increase the number of Girl Scouts in Douglas County as she fears parents and their children today may be too narrow in their activities.
"It would be nice if people could participate a little bit in a lot of things," she said.
Jeannie McClure
Title: Volunteer for Girl Scouts of Kaw Valley Council and vice chairwoman for Friends of Hidden Valley Camp. Full-time Job: Technical support for DataTeam Systems Inc. Hometown: Boulder, Colo. Moved to Lawrence: 1984. Education: Bachelor of Arts Degree in English, Kansas University 1993. Family: Husband, Kirk, KU urban planning professor; stepdaughter, Libby, recent Free State High graduate, will attend the University of Colorado this fall. Hobbies: Working on the family's house, dog walking, sewing, participating in the St. Andrew Society in the Kansas City area. Most Important Issue Facing Lawrence: Planning issues and deciding on a new library. "We are concerned about what's going to happen to the library. And I think people should participate in that. They should go to the meetings and learn about what the different options are and not just assume that one option is the right way without listening to all the other options." Living in Lawrence: "Lawrence is a very tight-knit community. It's pretty amazing how you can walk into the grocery store and meet so many people."
Copyright 2018 The Lawrence Journal-World. All rights reserved. This material may not be published, broadcast, rewritten or redistributed. We strive to uphold our values for every story published.