It would be big.
When it comes to building a new downtown library, that was about the only conclusion city commissioners came to Thursday morning after hearing all five proposals for the project.
Commissioners did not eliminate any of the plans put forward by private developers, nor did they set a timeline for deciding whether to move forward on the project that likely would require $40 million to $70 million in public money.
Instead, commissioners took a deep breath and decided to ponder one very large question.
"The real question we have to answer is whether we are really ready to do a major redevelopment downtown," Mayor Mike Amyx said.
Amyx said he wasn't ready to answer that question yet, but wanted everyone to realize how big an investment a new library would be for the public. He said in addition to actually coming up with the money to build the library, the city would need to increase the library's operating budget to run a larger facility.
Photo Gallery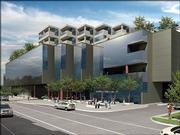 Library plans
Those cost estimates aren't fully determined, but Amyx said it would not be unreasonable to think that a five-mill property tax increase could be needed to cover both construction and operation costs.
"For me, I would love to see a new library in downtown, and we've really been brought some exciting ideas," Amyx said. "But we need to understand for sure what direction we're going. These are real dollars, and this is a real long-term commitment."
Sales tax
One new idea emerged from Thursday's study session: using a new sales tax to pay for the project rather than property taxes. Members of the team - led by developer Doug Compton - proposing the 800 block of New Hampshire Street as the site for the next library said a three-tenths of a cent sales tax for 25 years could pay for their project, which has an estimated public cost of $49 million. Theoretically, a sales tax also could be used to fund the other plans put forward by developers, though the size of the tax would be different depending on the cost of each plan.
Any new sales tax would require a public election, but commissioners already have committed to putting the library issue on a ballot regardless of how it is funded. No date for an election has been set, though April 2007 has been mentioned as a possibility.
City Commissioner Mike Rundle said he would be willing to consider using major portions of the city's share of the existing one-cent countywide sales tax to fund a new library. Currently, the city uses much of that money to fund parks and recreation projects. Several of those projects - such as the Indoor Aquatic Center and the East Lawrence Recreation Center - are set to be paid off soon. He said it might even be worth trying to get the county to use some of its countywide one-cent sales tax proceeds to help fund the library because many rural residents use the Lawrence library.
"I think it is an idea worthy of discussion," Rundle said.
Are we ready?
But before any of those details get discussed, commissioners made it clear they first must decide whether to tackle a project so large.
City Commissioner Sue Hack said downtown needs a large project, especially one that would add abundant parking and significant numbers of new residential living units.
"I know this is a risky proposition, but if you just listened to this room today, you could hear so much excitement," Hack said. "It is very exciting to stand on the cliff and see where our downtown could be."
But Rundle said there probably should be citywide discussion about how much risk the community is willing to take. He said several of the projects rely on large amounts of new retail space being filled to help pay for the projects.
He said the city had seen a previous public-private partnership - the Downtown 2000 project that sought to redevelop much of the 900 block of New Hampshire Street - not attract the retail it had expected, despite a new 500-space parking garage that was built in the block.
"That is a very big question for me," Rundle said. "Can we support all of this new retail, or even all of these new condos, and when?"
The plans
All five proposals are large in terms of dollars, but each one represents a slightly different flavor for commissioners to consider. They are:
¢ A proposal by the Fritzel family - longtime construction magnates in the community - is the largest of the bunch. The most current version - which is scaled back and would not include the need to use eminent domain to purchase houses near Sixth and Kentucky streets - would add 110,000 square feet of retail space along Vermont Street over a six- to 10-year period. It also would add about 1,400 parking spaces, more than 300 new living units to downtown, and an expansion of the Eldridge Hotel, which is partially owned by the Fritzel family. The project would require about $65 million in public money to pay for the library and public parking and other infrastructure. But the new retail, office and living units are projected to produce large amounts of new tax dollars to cover those costs. But that only happens if tenants are successfully found for the new buildings.
¢ A proposal by members of the Simons family - which owns the Journal-World - to locate the library in the former Riverfront Mall also would include significant new retail, office, parking, hotel space and 84 new condos. But many of the tenants for the project already have been identified, said Dan Simons, who is leading the development team. Sunflower Broadband, which also is owned by the Simons family, would occupy a large portion of the office space, moving from its current location in the Riverfront building to make way for the library. The same scenario would exist for the Marriott hotel, which would occupy a new building to the south of the Riverfront building. The project would require about $73 million in public money, but like the Fritzel plan, it is expected to generate new tax revenues to help pay for the project.
¢ The Compton led project, which would place the library near the northeast corner of Ninth and Vermont streets, would involve opening a new downtown hotel and also includes office space and 13 condos. But the developers have expressed optimism that the new space would attract tenants because their plan would include demolition of several office buildings in the block, leaving those businesses searching for new space. Those businesses include Lawrence Bank, Aquila and Charlton Manley Insurance. The project would require about $49 million in public money, but would use new tax revenues from the business and condos to help pay for the project.
¢ A project to place the library in the 900 block of New Hampshire Street has the least amount of commercial development of the plans proposed by the private sector. The project - proposed by members of the Downtown 2000 project - would include a small amount of office space and about 20 condos. Under the current proposal, the plan would require about $45 million in public money. The project - which would place the library adjacent to the Lawrence Arts Center - would produce the smallest amount of new tax revenues of the four private developments. It also is generally considered to have the most daring design, requiring a five-story building that would span parts of New Hampshire Street.
¢ A project to expand or rebuild the library on its site at 707 Vt. would not involve a private developer and would not include any new commercial or living space. Plans have been developed to either expand or build a completely new library on the site. Both options would cost $48 million. The project would not directly produce any new tax revenue, and it would provide the least new parking of all the proposals.
The feel
City Commissioner David Schauner said in addition to the financial aspects of the project, the commission needs to carefully examine how each project would affect the feel of downtown.
"It can be cool, but cool isn't necessarily downtown in terms of architectural style," Schauner said. "These are decisions that are going to affect Lawrence for a long, long time."
The projects also could affect adjacent neighborhoods. Three of the five proposals would overlook the East Lawrence neighborhood. K.T. Walsh, a board member for the East Lawrence Neighborhood Assn. said she was disappointed that only one developer - Jeff Shmalberg of the 900 New Hampshire Street project - had formally approached the association.
She said she had concerns that several of the projects would build large multistory buildings that could essentially "wall off" East Lawrence from the downtown.
"We would like to get involved sooner rather than later," Walsh said.
Copyright 2018 The Lawrence Journal-World. All rights reserved. This material may not be published, broadcast, rewritten or redistributed. We strive to uphold our values for every story published.