Katmandu, Nepal — Just days after a British climber was left to die near Mount Everest's summit, an American guide abandoned his second bid to stand on top of the world so he could rescue a mountaineer mistakenly given up for dead.
Not only did Daniel Mazur not scale the world's highest peak from the northern side, he also failed to get his two paying clients to the top.
"It was very disappointing for me to miss my chance at the summit, but even more that I could not get my job done," Mazur, of Olympia, Wash., told The Associated Press upon returning to Nepal's capital, Katmandu, on Thursday. Mazur, his two clients and a Sherpa guide were just two hours from the 29,035-foot peak on the morning of May 26 when they came across 50-year-old Lincoln Hall, who was left a day earlier when his own guides believed he was dead.
"I was shocked to see a guy without gloves, hat, oxygen bottles or sleeping bag at sunrise at 28,200 feet height, just sitting up there," said Mazur, who scaled Everest once before, from the southern side, in 1991.
Mazur said Hall's first words to him were: "I imagine you are surprised to see me here."
Mazur said he knew Hall was OK because he was not crying for help and still had a sense of humor. Mazur's team spent the next four hours pulling Hall away from the slopes, giving him bottled oxygen, food and liquids.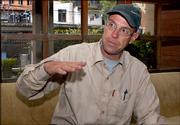 While Mazur's team was busy assisting Hall, two Italian climbers walked past them toward the summit. When asked to help, they claimed they did not understand English. On his return to base camp, Mazur discovered they did.
"I don't know why they didn't want to stop to help," Mazur said. "I hope when I am there, in that state, and someone passes me ... I hope it is someone like me."
Hall's rescue came just days after David Sharp, 34, died May 15, about 1,000 feet into his descent from the summit. Dozens of people walked right past him, unwilling to risk their own ascents.
By the time some Sherpas showed up to help get Hall back to base camp, Mazur, his clients and his own Sherpa were too exhausted to attempt the peak. They had no choice but to return without completing their climb.
"We all looked at the summit and then returned," he said. "We all agreed there was no choice."
But Mazur had no regrets.
"Oh yeah, it was worth it," he said. "You can always go back to the summit but you only have one life to live. If we had left the man to die, that would have always been on my mind ... How could you live with yourself?"
Copyright 2018 The Associated Press. All rights reserved. This material may not be published, broadcast, rewritten or redistributed. We strive to uphold our values for every story published.