Clinton — Supporters of the Clinton Lake Museum said they hope Saturday marks the start of a new era leading to better preservation and recognition of the area's history.
The first of a series of fundraising events will be at the museum, which opened in 1983. The Clinton Lake Historical Society aims to raise at least $500,000 for a new museum building that would be built on the west side of the grounds.
The new building would house a much larger exhibit gallery and storage space. It would serve as a cultural center and have a meeting hall and kitchen. Tornado-proof storage for key documents would be built in, and so would a workshop for restoring documents.
"The lake needs something like this. It's a tribute to the Wakarusa Valley," museum curator Martha Parker said.
Saturday's "open house" will include a featured speaker, music supplied by Junk Yard Jazz, appetizers and drinks. It will be from 2 p.m. to 4 p.m. Tickets to attend are $20 and will be sold at the outdoor event. The museum is in Bloomington Park on the west side of Clinton Lake.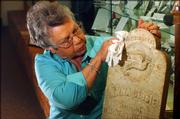 "If someone only has $5, we'll take that; if someone wants to give us $150, we'll take that, too," Parker said.
Diane Lane, national coordinator for the Midwest Region on the National Underground Railroad Network to Freedom, will be the guest speaker. She visited the area a few years ago, Parker said.
The region's Underground Railroad history could become a key feature to a new museum, Parker said. There are 34 Underground Railroad sites in Douglas County and most are in the Wakarusa Valley, which includes the Clinton area, she said.
"I'm hoping that the new museum will house the definitive Underground Railroad exhibit of eastern Kansas," Parker said.
Clinton Lake Museum
The museum and Clinton Lake Historical Society have been raising funds for expansion of the museum during the past several years, Parker said. She declined to say how much money had been raised. A consultant is working with the society on the project, and an architect will need to be hired.
"We know what we want it to look like," Parker said. "We want it to fit in a setting that would resemble a farmstead and be compatible with the old museum we have now and be in a natural setting."
The museum
Clinton Lake Museum, 610 N. 1200 Road, is in Bloomington Park next to the lake and near the town of Clinton. Take Douglas County Route 458 around the east and southeast sections of the lake to County Route 6 to Clinton and into the park. Signs point to the park. A sign just inside the park will note the museum's location. You also can take County Route 1023 through Stull and around the west sections of the lake to Route 6.
In 2004, an effort was launched to raise funds for a 4,800-square-foot expansion to the old museum building. But problems with adding to the existing foundation were discovered, and preliminary drawings were determined unfeasible, Parker said. The decision for a new building was decided several months ago.
A new building with more space is long overdue, said Betty Laird, one of the co-founders of the museum. The current museum is overwhelmed with artifacts, photographs and documents it can't adequately display, if at all.
"We've been looking forward to this for some time," she said. "I'm delighted we are moving ahead on this."
Other fundraisers
This summer at Clinton Lake Museum: ¢ July 16, 6:30 p.m.: Ice cream social. An evening of entertainment to go with the ice cream. There will be narrations and singing performances. ¢ Sept. 16: A barbecue dinner with performances by various country bands. Time to be announced.
Copyright 2018 The Lawrence Journal-World. All rights reserved. This material may not be published, broadcast, rewritten or redistributed. We strive to uphold our values for every story published.