Baldwin — J.T. Schwalm has witnessed some hairy situations outside his office window near the junction of U.S. highways 59 and 56, about 10 miles south of Lawrence.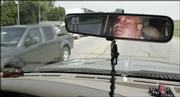 "I've seen semis come from the east (on U.S. 56) without stopping. They just didn't stop and didn't slow down. You can hear their air horns go off," said the Hansen's Used Cars salesman.
That's a dangerous practice, considering the deadly wreck on April 29 and possible visibility issues there near the Baldwin Junction Veterinary Clinic, says Delbert Sheldon, a Baldwin area resident who drives through the intersection a few times each week. The Kansas Department of Transportation is puzzled by the dangers there and is currently studying the junction again after a 2004 study declared it safe.
U.S. 59 traffic does not stop; U.S. 56 traffic must come to a halt before crossing or turning.
"When you pull up to that stop sign, this driver's side looking south. It's just totally blind spot," Sheldon said.
He demonstrated the view from his extended cab pickup truck Monday morning while he headed west on U.S. 56 and looked to the south down U.S. 59.
Combined signs a few feet from the junction for northbound U.S. 59 drivers identifies the two crossing roads. From the stop sign at U.S. 56, only the silver backs of the junction signs are visible to drivers.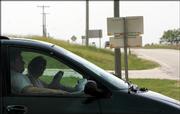 Sheldon says the signs can hide approaching cars. The signs combine with a ridge near the eastern ditch, he said. Drivers must pull forward, but if they are looking both ways, the signs can add an obstacle between glances, he says.
"Why should you have a sign that close to the intersection? If you are reading that sign, you've done missed this intersection," Sheldon said.
On April 29, Jennifer A. Jamison, 19, Spring Hill, pulled out of a stop from the same intersection and into a northbound pickup truck, according to an accident report. She and her passenger, Laura Miller, 19, Spring Hill, died from injuries.
Brian Gower, a KDOT traffic engineer, said the agency follows its manual and generally places the junction signs where a vehicle's turning radius begins. They take into account the visibility from all directions, and the 2004 study declared the sign locations, the 55 mph speed limit - which was increased from 45 mph there in 1998 - and the sight distance to be safe at the junction.
Gower said he speculated the sign may block the view from U.S. 56 depending on where the driver stops. They have the freedom to nudge up or stop short to get a better view, he said.
He also said KDOT does find certain intersections to be safe regarding their layout, but they tend to be trouble spots or produce accident patterns.
"That can be at any location," Gower said. "We, as an agency, have looked at several locations where you have all the necessary signing in place, have sight distance forever with no obstructions, and people have accidents there, and you can't really understand why that's occurring."
A citizen requested KDOT study the U.S. 59-U.S. 56 junction again. Gower expects to have data on turning movements, traffic volume and other factors within the next month.
According to KDOT, between Lawrence and Ottawa in the last 10 years, 15 people have died and 365 have been injured on U.S. 59.
A $214.3 million plan is in the works to expand U.S. 59 to a four-lane freeway between Lawrence to Ottawa. The junction would become an interchange under the plan. Currently, the road is scheduled to open in Franklin County in 2009 and in Douglas County in 2011.
Intersection of U.S. 59-56
Schwalm says that he is familiar enough with the placement of the signs at the junction but that drivers unfamiliar with the area could get a false sense of security when they are looking back and forth.
"I don't know what they'd do with it. I think the four-lane is the best remedy," he said.
Sheldon said he thinks the issue deserves attention.
"If it saves one wreck of somebody injured for life, definitely that would satisfy me," he said.
Copyright 2018 The Lawrence Journal-World. All rights reserved. This material may not be published, broadcast, rewritten or redistributed. We strive to uphold our values for every story published.