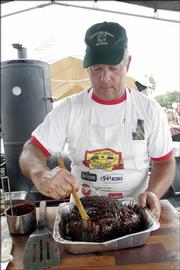 The Rock Chalk Jayhawk BBQ from Olathe took home the grand championship Saturday at the 15th annual McLouth BBQ Blowout. Patty Boone led the team as head cook.
The team won a berth in the American Royal Invitational Championship as a member of the Kansas City Barbecue Society.
MoKans Meatheads, from Grain Valley, Mo., won the reserve championship on Saturday. The two-day event, which includes children's activities, drew its regular 2,000 to 2,500 people, organizer Cliff Weeks said.
Curtis Oroke, of Lawrence, led the Hemphill Smokers to the People's Choice Award.
Category winners include Grill 'n' Gamblers for chicken; Smokin' R's for ribs; Grill 'n' Gamblers for pork; Have Smoke Will Travel for brisket; Knotheads BBQ for sausage; Pig Newton for sauce; and, Rock Chalk Jayhawk BBQ for miscellaneous.
John Humphrey, of Lawrence, led Smoke-N- Things to a fourth place finish in ribs and third place in miscellaneous.
Copyright 2018 The Lawrence Journal-World. All rights reserved. This material may not be published, broadcast, rewritten or redistributed. We strive to uphold our values for every story published.