A handful of community-minded Lawrence residents are preparing for construction of Delaware Street Commons, an innovative residential development that will combine private ownership with shared assets and communal responsibilities.
Project members last week hired Edwardsville-based Neighbors Construction Co. Inc. to build their 2.2-acre community in eastern Lawrence. They also signed for a construction loan with First State Bank & Trust.
The totals: Six investors, 23 residences and one "common house," all for $3.314 million.
And one relieved treasurer.
"After I signed those papers, for the first time in about a year and a half I actually slept soundly and dreamed vividly," said Rich Minder, who has been a leader on the "co-housing" project for several years with his wife, Vicki Penner. "We've gotten this really hard part out of the way. : Now, we at least have some resources to work with - when for five years you're selling air, it starts to get old.
"It's about time to get some buildings to sell."
Minder and his fellow co-owners are marketing their project as the first of its kind not only in Lawrence, but in Kansas.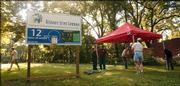 As a co-housing development, residences at Delaware Street Commons - ranging from two-bedroom apartments for $140,000 to three-bedroom, two-level townhomes with basements for $225,000 - will be set up like a condominium development. Each member buys a residence, then shares in the overall project's governance, maintenance and use of community features. Such features range from a garden to a "common home" complete with a large kitchen and dining room for shared meals, plus a play room for small children, a laundry room, a workshop and an exercise room.
After five years of planning, designing and marketing, the development thus far has attracted six buyers, plus another two people - one from South Dakota, and another from Matfield Green - who have committed to buying into the project. But for now the original six are the ones responsible for backing up the more than $3 million in loans taken out to make their dream of co-housing a reality.
Linda Peckham, who works primarily at home as a computer programmer for Google Inc., became an equity owner in 2001 and admits that "signing on a loan for more money that I'll ever have in assets" last week was a bit scary.
But the prospect of seeing the homes take shape is easing her anxiety.
"It's the concept that brought me in," Peckham said. "I'm a single person with no children, an introvert who hates to go out. I like the idea of having a community, and having the social interaction. : I'm middle aged, and I'm looking forward, in retirement, to having a community in place."
Peckham plans to attend a national co-housing conference next month in Chapel Hill, N.C., where she'll be passing out flyers and putting up posters that tout the virtues of Delaware Street Commons. She and her partners still need another 15 buyers.
"We're keeping our fingers crossed," Peckham said.
Copyright 2018 The Lawrence Journal-World. All rights reserved. This material may not be published, broadcast, rewritten or redistributed. We strive to uphold our values for every story published.