No one waits for summer quite like the directors of Kansas University's greek houses.
"When the girls leave, you're like a butterfly," said Sunny Walsh of Pi Beta Phi sorority, 1612 W. 15th. "We all wait for this time of year because we have our freedom."
Many people love summer, of course. But the concept of summer vacation takes on a whole new meaning when the dozens of college students you've been watching over round-the-clock for the past year finally fly the coop.
KU's greek system has more than 3,500 members at 40 fraternities and sororities. There are about 30 houses.
And at the head of the houses are the directors - adults who oversee everything from meal planning to plumbing and housekeeping. Once called "house mothers," the politically correct term these days is house directors. Their roles and the amount of time they spend at the houses vary depending on each house.
"My description of my job is: I run a hotel except my guests never go home," Walsh said.
They oversee the massive buildings and yards, while keeping an eye on the students.
"For us, they're the eyes and ears in the chapter facilities," said Erin Michaelis, assistant director for Fraternity and Sorority Life. "A lot of times they have a much better idea than anyone of what's going on."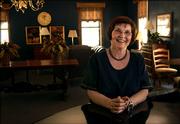 It's often the house directors they call on in a crisis.
"I know the way to Lawrence Memorial's emergency room very well," said BeBe Arbuckle, house director of the Phi Gamma Delta fraternity, 1540 La. "There's always something happening. You never know what's going to happen next."
They counsel. They teach - Arbuckle gives etiquette lessons to the men. They often attend sporting events and celebrate along with students. And they deal with the shenanigans of college students.
Betsie Banta of Kappa Alpha Theta sorority, 1433 Tenn., once had to help a girl who superglued her fingers to a two-by-four.
Arbuckle recalled one of her stranger experiences - two girls in a fist fight inside the fraternity.
"They were vicious," she said.
Arbuckle let the men break that one up.
"I didn't want to get anywhere close to them," she said.
So, you see, it's nice when summer comes.
Walsh said she'll spend much of June at a lake in Iowa. And her July respite will be in San Miguel, Mexico.
"It's a vacation in a different way," she said. "You're still kind of working, but you're not."
She'll still watch over the house, but she won't be tied down by 92 young ladies and their many needs.
Shari Head, director of Pi Kappa Phi fraternity, 1537 Tenn., will have a different summer - not quite the one she planned.
Head's home was smashed by the March 12 microburst. The damage was enough to keep her out this summer as it gets repaired.
Typically, she'd spend these days tending her garden and sitting on her front porch reading. Instead, she's staying at the fraternity.
"I'll just make it do," she said.
Arbuckle will go to a family wedding. She'll take a vacation in Iowa. She'll golf. She'll deal with the quiet.
"I do miss having the boys here."
Copyright 2018 The Lawrence Journal-World. All rights reserved. This material may not be published, broadcast, rewritten or redistributed. We strive to uphold our values for every story published.