Betsey Johnson met Nick Gallinger when they were undergraduates at Kansas University, both taking the same path toward a doctorate in pharmacy. They spoke, but that was about it.
"We didn't really 'meet, meet' until our Mammalian Psychology class, where Nick's lab partner was a good friend of mine," Betsey recalled.
One day Betsey wore a Cheyenne, Wyo., T-shirt to class. That's Nick's hometown. That's when he really "talked, talked" to her, inquiring about her shirt.
She told him she was actually a Kansan from Scandia but had traveled to Cheyenne's Frontier Days with her dad. That was close enough for Nick. A couple of classes later, he asked if she'd like to go to a movie.
He arrived at Betsey's apartment 30 minutes early.
"He was all dressed up, and I'm wearing what I wore to class," she said. She freshened up, changed clothes and they went to see a "funny" movie.
Back at her apartment, they watched television, "talked and talked" and decided to go on another date. Over time, they hit Molly McGee's, rented movies and occasionally imbibed at Louise's West. Their first concert was George Strait.
Audio Slideshow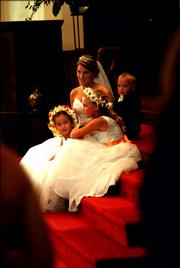 Couples: Gallinger - Johnson Wedding, April 29, 2006
They were an item.
"It was great that we were already friends first and had studied together in class for a year before we pursued the relationship," Betsey said.
While still in Scandia's high school, she delivered prescriptions in neighboring Belleville for Arbuthnot's Drug Store. Bob Arbuthnot, a pharmacist there, was a KU grad. At the same time, Nick was delivering prescriptions for his dad, Bruce, a pharmacist at Town and Country Pharmacy in Cheyenne.
Both earned doctorate degrees in pharmacy in May 2004.
They packed their belongings, along with their black labs, Pink and Ray, and headed for Fort Collins, Colo. Betsey is the pharmacy manager at Albertson's Grocery, where "The Jayhawk on my smock sparks lots of conversations," she said.
Nick has a 50-minute commute to Cheyenne, where he's a clinical pharmacist at The United Medical Center. He also works at a Coumadin Clinic, where he helps people regulate the consistency of their blood.
So Nick traveled to Lawrence in order to return to Wyoming.
Why KU?
"My mother grew up in Inman, and my great-grandmother, Martha Bartels, graduated from KU in 1914," Nick said. "And after two visits to Lawrence I fell in love with the campus."
Betsey and Nick were married April 28 at the First United Methodist Church in Lawrence. Both Wyoming and Kansas were well represented.
Before the just-married Gallingers headed for their wedding reception, they climbed into their new black Ford Mustang and did something they'd talked about for a long time.
Recalling their days as poor students, they drove across the KU campus in tuxedo and wedding gown.
Copyright 2018 The Lawrence Journal-World. All rights reserved. This material may not be published, broadcast, rewritten or redistributed. We strive to uphold our values for every story published.