If the wheel was the greatest invention of all-time and coffee the second, rank charity golf outings a close third.
Everybody wins.
And if I could have contributed to a foursome that included Kansas University golfer Tyler Docking, 6News sports director Kevin Romary and Journal-World business editor Mark Fagan, we would have won on the scoreboard in the Cottonwood Classic played Friday at Alvamar Golf Course.
The scramble format - everybody goes to the best shot and hits from there - is supposed to bring out the best in talent-challenged golfers, but it always brings out the worst in me. I guess maybe I just don't like feeling like a leech.
We shot 61, two strokes off the pace. A better question than who won: Who didn't?
Photo Gallery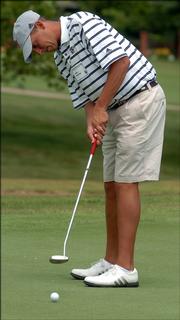 Everyone wins in charity event
First, funds were raised for Cottonwood, a community service provider to disabled individuals. Volunteers from Cottonwood enjoyed the sunshine, so they won. Philanthropic businesses that footed the bill for foursomes won in knowing the money was going to a good cause. The golfers won because they had a chance to compete in the sun, instead of sitting at a desk.
Docking, as outgoing a mechanical engineering student as you're likely to meet anytime soon, counts himself a winner every time he plays in such a tournament.
"It gives you a chance to work on your social skills and a chance to develop some contacts," said Docking, who once shot a 64 in Hawaii in a college tournament but does not yet have a hole-in-one on his resume. "I'm hoping I can continue to improve enough to play professionally. If not, I'm making a lot of contacts, and I wouldn't hesitate calling someone I've played with to say, 'I wonder if you might know of any opportunities. ...' It's a great way to meet people."
Docking bombed 300-yard drives, nailed a 35-foot putt and generally made jaws drop. On the par-5 eighth, Romary's drive, Fagan's 3-iron and Romary's 10-foot putt gave us an eagle. On the par-4 ninth, Docking hollered at Romary's approach to "come back!" It did, checking up and rolling back toward the cup, just like you see on TV. Fagan, not the long-ball hitter the other two are, consistently delivered in the clutch. It takes four to win. I didn't have it.
Words of wisdom
"I guess there is nothing that will get your mind off everything like golf. I have never been depressed enough to take up the game, but they say you get so sore at yourself you forget to hate your enemies." - Will Rogers
Oh well, it wouldn't have been Docking's greatest victory anyway. That came in a national contest open to professional engineers, design firms and universities. The challenge: making amusement park rides more accessible to people with limited mobility, mostly those in wheelchairs. Docking and fellow KU mechanical engineering students Matthew Hess, Carla Hines and Francis Hitschmann won the $5,000 first prize.
Docking said he did not plan on going into the family business. His great grandfather, George Docking, and great uncle, Robert Docking, both served as governor of the state of Kansas.
"I'm not so much the political type," Docking said.
For one thing, he's no Gerald Ford on the golf course. He's much safer to watch.
Tip
By John Morris
Everybody wants to cut down strokes, and what better place to start than the short game? Nobody ever thinks about it because they want to hit the big driver. No, come out, get a lesson on chipping. Start with the ball between your toes and take a step toward the target with your left foot. Move your hands left and shift your body weight to the left and take a putting motion. No wrist whatsoever. Then brush the grass. Just remember: Step left. Hands left. Body weight left. Brush the grass.
- Tipster John Morris is an assistant pro at Eagle Bend Golf course. He can be reached at jmorris@ci.lawrence.ks.us
This week in golf:
Hole
No. 18, Alvamar Golf Course
Par: 4. Yards: 399 (championship tees)
Many golf course architects were mindful of keeping the golfers coming back for more by making the closing hole an easy par. That's not the case here. An ominous pond is in in play for heavy hitters off the tee, making them select anything from a 3-wood to a 4-iron to lay up. If the pin placement is in the front of the green, that complicates matters because going for the pin and missing left or right could mean landing in a sand bunker. It's the No. 8 handicap hole, not the most difficult on the course, but far from the easiest.
Copyright 2018 The Lawrence Journal-World. All rights reserved. This material may not be published, broadcast, rewritten or redistributed. We strive to uphold our values for every story published.