Bantul, Indonesia — The United Nations said Friday $100 million was urgently needed to help Indonesia earthquake survivors as the injured and bereaved marked the Islamic day of prayer amid the rubble of their homes.
"We should not cry or stay in mourning," one preacher told worshippers outside a damaged mosque in the center of destroyed Bawuran village. "We should thank God that we are still alive."
Adding to the concerns, nearby Mount Merapi volcano shot out large plumes of ash and sent lava down its slopes 35 times Friday.
The magnitude-6.3 earthquake that struck before dawn nearly a week ago killed more than 6,200 people and injured 30,000 more across a large part of Java Island. Officials estimate it destroyed 135,000 houses.
The massive relief effort came as Indonesia is still trying to rebuild from the 2004 tsunami, which killed 131,000 people in Indonesia's western Aceh province. Indonesia, an archipelago of 17,000 islands with a population of 220 million, also is fighting a spiraling human bird flu case load.
Local and international aid workers have yet to reach some remote areas in the quake zone, and delivery of food, medicine and tents to the estimated 650,000 people made homeless by last weekend's disaster has been sporadic in other parts.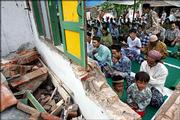 An estimated $100 million will be needed in the next six months to address the most immediate needs, the U.N. Office for the Coordination of Humanitarian Affairs said. Nearly half of that money should go toward housing.
"The earthquake's large-scale destruction of water and sanitation facilities combined with large numbers of displaced survivors creates the potential for high disease and death rates," said Michael Kocher, International Rescue Committee regional director for Indonesia.
Copyright 2018 The Associated Press. All rights reserved. This material may not be published, broadcast, rewritten or redistributed. We strive to uphold our values for every story published.