Dili, East Timor — Nobel Peace laureate Jose Ramos Horta said Friday he would take over East Timor's top security posts in a bid to end factional divisions that have plunged the country into chaos.
His announcement came as fresh looting and rioting broke out in the capital and was likely to further isolate embattled Prime Minister Mari Alkatiri.
Ramos Horta won the 1996 Nobel Peace Prize for bringing world attention to the plight of East Timorese under years of often brutal Indonesian rule. He is already foreign minister, and is expected to be sworn in today as head of both the defense and the interior ministries.
The defense and interior ministers resigned Thursday, taking responsibility for failing to prevent the worst violence since East Timor's break from Indonesia in 1999.
"I'm the only one who might be able to heal the wounds within the armed forces, between the armed forces and the police force, between the armed forces and society at large," Ramos Horta told Australian Broadcasting Corp. radio.
Like President Xanana Gusmao, Ramos Horta enjoys status from his role in helping to win independence for East Timor. The men have worked closely together since the break from Indonesia.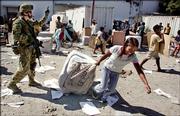 The wave of unrest was triggered when Alkatiri fired 600 soldiers from the 1,400-member army in March. Before they were dismissed, the soldiers had gone on strike, claiming the government discriminated against them.
Sporadic clashes last month between the fired soldiers and government troops set off street warfare in Dili between gangs loosely allied with either side. The unrest escalated recently into riots and clashes with government forces.
At least 30 people have died, hospital officials said.
Tens of thousands who have fled the chaos for camps in or near the capital have become increasingly desperate for food and other aid, and riots have occasionally broken out on food lines.
On Friday, residents frustrated after waiting for hours for food that never came looted a warehouse of computers, furniture and anything else they could carry away in trucks and on motorcycles - including musical instruments and a saddle.
"I'm hungry and the shops are closed. Where are we going to buy something to eat? The government rations are finished," Cornelio Moniz Barreto said. "Now we are thinking about our stomach, not politics."
Alkatiri, who has been blamed for many of the impoverished nation's problems, claimed his political rivals were fomenting the unrest as part of a plot to oust him.
"Their main objective is to overthrow the government," he told Indonesia's Metro television. He did not identify any culprits.
Copyright 2018 The Associated Press. All rights reserved. This material may not be published, broadcast, rewritten or redistributed. We strive to uphold our values for every story published.