Miami — There was no champagne. Not yet, anyway.
After an offseason of often-criticized changes Pat Riley made to surround his superstars with more talent, the Miami Heat broke through to new heights - and have no intention to stop climbing now.
"The job," Shaquille O'Neal said, "is not done."
Ah, but there's only one more step - the NBA Finals, where the Heat are headed for the first time.
O'Neal had 28 points and 16 rebounds, and Dwyane Wade - who spent part of his day in a hospital battling dehydration and flu-like symptoms - added 14 points as the Heat ended the Detroit Pistons' two-year reign as Eastern Conference champions with a 95-78 win Friday.
Jason Williams, one of Riley's prized and numerous offseason additions, came up huge with Wade lagging in Game 6, scoring 21 points on 10-for-12 shooting.
The Heat now await either Dallas or Phoenix in the Finals, which start Thursday.
"We know right now, we still have a job ahead of us," said Heat forward James Posey, another newcomer - like Gary Payton and Antoine Walker, two title-starved veterans - brought in last summer by Riley in a quest to surround his big guns with extra firepower. "We're not going to get too high right now. We're not going to get too low. Four more wins - that's the most important thing."
The party started early. Wade walked off with 1:45 left, right index finger raised before he slapped Riley's hand. And after the final second ticked off, white streamers fell from the ceiling as the Heat players waved championship caps and T-shirts. Soon, though, O'Neal issued an expected warning.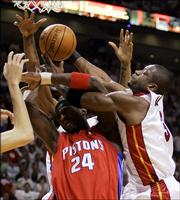 "We're not done," he said.
Richard Hamilton had 33 points for Detroit, which finished the regular season with an NBA-best 64-18 record and came in confident after ending Miami's season here a year ago in Game 7 - in part because Wade and O'Neal were battling injuries.
Wade clearly wasn't at his best Friday.
O'Neal was. Hence, the difference. He made 12 of 14 shots, making sure this chance wouldn't slip away.
"Miami played great," Hamilton said. "They deserved it."
And the proud Pistons weren't shy about showing their respect to the new East champs. Rasheed Wallace hugged several Miami players before leaving the court, and Tayshaun Prince said "Miami was definitely the better team."
"I don't want to make excuses," Pistons guard Chauncey Billups said. "They flat-out beat us."
Detroit only shot 33 percent in the game, with Billups going 3-for-14 and Rasheed Wallace going 4-for-12. The Pistons were outrebounded 48-39 and, perhaps most telling, let the Heat shoot 56 percent from the floor - after insisting that defense would be their top priority.
"We didn't play how we play," Pistons coach Flip Saunders said.
Wade was 1-for-6 with four points in the first half. Didn't matter. O'Neal and Williams more than carried the early scoring load, helping stake Miami to a 47-36 lead at intermission.
O'Neal was 9-for-11 from the field for 19 points in the opening two quarters, his biggest first-half effort so far in these playoffs. And Williams - who was 13-for-30 from the floor in the first five games - was 5-for-5 in the half, the last of those a pullup with 4:14 left that gave Miami a 38-27 lead.
Detroit got within 40-33 on a pair of free throws by Hamilton with 2:52 left, but O'Neal scored six straight Miami points in a span of 2:05 and sparked a half-closing 8-3 run by the Heat.
And really, the outcome was never in doubt. The Pistons were within 10 midway through the third quarter, when Wade - who missed the first 2 1â2 minutes of the second half and remained in the locker room, getting IVs to help with his hydration - finally started to roll.
He had 10 points in the quarter, hitting his last four shots - including a jumper with 1 second left for a 72-53 lead, as the sellout crowd began going delirious, the realization that the franchise's 18-year-itch was about to be scratched.
"I just wanted to help my teammates," Wade said. "And God gave me the strength."
Hamilton and the Pistons made one more run, his jumper with 6:24 left getting Detroit within 80-67. He made a steal 17 seconds later, but O'Neal blocked his layup - then followed with a dunk on the other end.
Copyright 2018 The Associated Press. All rights reserved. This material may not be published, broadcast, rewritten or redistributed. We strive to uphold our values for every story published.