Barak Krengel is looking forward to spending some quality time with his fellow Jewish students.
That will become a little easier with the opening of the new Chabad Jewish Center at Kansas University, a house that will serve as a resource library, programming center and social networking hub for Jewish students.
"I'm so excited for it," says Krengel, a sophomore from Dallas. "When I found out they were bringing a Chabad house, I flipped out."
The house is part of the international Chabad-Lubavitch organization, a movement which traces its roots to the 1940s. It now has 3,300 centers around the world that work to promote Judaism, including more than 100 on campuses.
"We're a well-known Jewish outreach," says Rabbi Zalman Tiechtel, who will co-direct the KU center with his wife, Nechama Dina Tiechtel. "The goal is to share the beauty of Judaism with those who might not be familiar with it."
The Tiechtels, who are from Brooklyn, N.Y., will both live and operate the center out of a house at 1201 W. 19th St. They arrived in April but will get the center into full swing this fall.
They plan to have frequent get-togethers, holiday observances, classes and outreach programs. But they also want to be a safe place where Jewish students are welcome any time, and a resource for information about Judaism.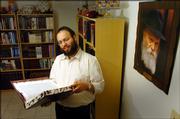 "We like to call ourselves the Google for anything Jewish," Rabbi Tiechtel says.
The Chabad-Lubavitch organization is based on Orthodox Jewish beliefs. But Tiechtel says all students are welcome to participate, no matter which sect of Judaism they come from.
"We say labels are for shirts, not for religions," he says.
Still, Krengel, the KU student, says some Orthodox students will feel more comfortable at Chabad than they do at Hillel, which is currently the largest Jewish organization on campus and isn't based on a particular theological slant.
For instance, Krengel says Orthodox students such as himself won't participate in Hillel events scheduled from sundown Friday to sundown Saturday, the Jewish Sabbath. Chabad won't schedule events on the Sabbath.
"Chabad is really Orthodox, but they don't discriminate," Krengel says. "They don't care if you're Reform (a form of Judaism that emphasizes wide inclusion in the Jewish faith). They get everyone involved. They don't have preferences."
Krengel, who is on the board for Hillel, says he sees Hillel filling a niche for students who want leadership training, while Chabad could be more of a social organization.
'Not competition'
KU Hillel and the Chabad Center in Kansas City, Mo., have worked together for years. Rabbis with the Chabad house have come to Lawrence for programs, as they have for other cities in Kansas and Missouri.
"It was not often enough - that was really it," says Rabbi Mendy Wineberg, who directs the Kansas City center. "There are so many Jewish students and the response was so overwhelmingly positive, we thought the time had definitely come" for KU to have its own center.
Leaders of the KU Jewish organizations estimate there are 1,500 to 1,800 Jewish students on campus. With fewer than half of them involved at Hillel, both groups see untapped potential for getting students involved.
"I see them working together very, very well," Wineberg says. "We've had an incredible relationship with Hillel over the years. It's not competition in any way, shape or form. They're two very wonderful organizations, and together they can bring more Judaism to campus."
That's also the way Jay Lewis, director of KU Hillel, sees it.
"Certainly, we're independent organizations," Lewis says. "There may be a handful of things we can specifically partner together on, some in the area of holidays or educational programming. But for the most part, we'll do our own separate and distinct programs. The more opportunities for Jewish students at KU, the better."
Lewis says he expects many students to be involved with both organizations.
That's fine with Tiechtel, who says he wants Jewish students to realize their faith and culture can be fun.
"Our goal," he says, "is to bring more spirituality to the lives of students."
Copyright 2018 The Lawrence Journal-World. All rights reserved. This material may not be published, broadcast, rewritten or redistributed. We strive to uphold our values for every story published.