Kansas City, Mo. — It's not just you wishing there was a way to force the guy with the cell phone plastered to his ear and blocking traffic to hang up the phone and steer.
Dozens of states and towns across the country have tackled the issue of cell phone use while driving, with a handful passing legislation limiting the use of certain phones or restricting phone time for the inexperienced or for school bus drivers.
The college town of Lawrence, Kan., is possibly going the furthest, proposing a ban on all cell phones - both hand-held and handsfree - while operating a vehicle. The ordinance on Monday goes before the city's Traffic Safety Commission, which will make a recommendation on the measure before sending it to the full City Commission for a vote.
The wireless industry is keeping an eye on the ordinance, as it does all attempts to curtail cell phone use, said Joe Farren, coordinator of public affairs for industry group CTIA - the Wireless Assn.
"We think these types of measures, whether legislative or educational efforts, that focus narrowly on one type of (driver) distraction creates a false sense of security," Farren said. "We're ignoring the multitude of other driver distractions, such as eating, drinking, reaching for a CD, grooming, singing, caring for a child."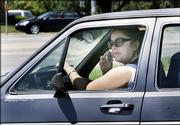 More than two dozen local governments have passed their own restrictions on cell phone use while driving, according to the National Conference of State Legislatures, although some of those ordinances were later trumped by court action or, in the case of New York and Florida, state law. The Kansas Legislature failed to pass a cell phone bill introduced this winter, but 24 states have instituted their own laws.
It's questionable how far the Lawrence ordinance will go. Two of the eight sitting commissioners on the panel said they believe law enforcement will have a hard time spotting and chasing down violators, especially those using handsfree units that are almost invisible.
"All the commissioners have been concerned about the safety, and they think using the cell phone takes away from your concentration while you drive, but the question is what you do with that," said Commissioner John Ziegelmeyer Jr., the panel's chairman.
Commissioner Robert Hagen said he was leaning toward a second proposed ordinance that would simply double the fine for inattentive driving, which would not require additional enforcement and could be easily seen by an officer.
Lawrence police "will enforce any city code passed by the Lawrence City Commission," department spokeswoman Kim Murphree said Friday. "Strategies for enforcement will depend on the details of the code."
The Kansas Department of Transportation said that cell phones were a contributing factor in 292 accidents last year statewide, causing five deaths and 144 accidents.
That's still less than a third of the accidents caused by such distractions as people applying makeup, eating or dealing with their children while driving. And with around 70,000 vehicle accidents in Kansas, cell phones appear, at least statistically, to be a minuscule problem.
But some researchers, noting that cell phones don't leave many physical traces of their use in a wreck, have suggested that wireless phone-related accidents may be underreported.
Paul Atchley, an associate psychology professor at Kansas University who has done research on the effect that cell phones have on a person's cognitive abilities, said phones require more concentration and create longer-lasting disruptions than many of the other extracurricular activities performed while driving.
"Our brains cannot effectively multitask," said Atchley, who has briefed the commissioners on cell phone research over the last seven months. "Discussion of those other distractions is a distraction and is meant to make us forget that cell phones are a more ubiquitous distraction and potentially more dangerous."
Farren, however, said the focus should be on education and enforcing existing laws aimed at reckless driving.
"We're very clear about that," he said. "If someone thinks their phone is going to distract them from driving, don't use it."
Copyright 2018 The Associated Press. All rights reserved. This material may not be published, broadcast, rewritten or redistributed. We strive to uphold our values for every story published.