Oakland, Calif. — Catcher Jason Kendall had already begun thinking about who would be coming up for the Kansas City Royals in the next inning when the baseball left his bat for a long-awaited home run.
Kendall hit his first homer in nearly two years, and Frank Thomas connected for No. 459 of his career Wednesday in the Oakland Athletics' 7-0 victory over the last-place Royals, who hours earlier fired general manager Allard Baird and replaced him with Atlanta Braves assistant GM Dayton Moore.
"Two more and I've got 70," Kendall joked after hitting his 68th career homer.
Kendall sent a pitch from Joel Peralta over the left-field fence for a two-run shot in the eighth inning, ending a homerless stretch of 247 games and 961 at-bats. After rounding the bases, Kendall was greeted by his teammates at the top the dugout steps and a standing ovation from the crowd of 25,181. He tipped his batting helmet and bowed.
The stretch included 740 at-bats with Oakland since his last homer, July 27, 2004, for Pittsburgh off Atlanta's Paul Byrd. Kendall, whose father Fred got to see it as Royals bullpen coach, received more cheers when he came out to catch in the ninth.
"I think the team was more excited than I was," Kendall said. "I got a college rah-rah greeting. It was good to get that out of the way. It's not like I haven't done it. I just haven't done it in an A's uniform."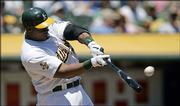 Kendall got the home run ball from manager Ken Macha along with $200, which the skipper promised his catcher if Joe Blanton had a complete game.
"Barry Bonds' ball is worth what?" Macha said three days after the San Francisco slugger passed Babe Ruth with his 715th homer. "I owe Kendall $200 for a shutout, and here's his ball."
Blanton pitched a five-hitter for his first career shutout to win for the second time in six starts. Bobby Crosby homered for the second straight day, and Eric Chavez had a two-run triple as the A's ended a three-game skid.
Thomas connected for his 11th homer of the season in the first inning. The homer gave The Big Hurt 1,493 RBIs to tie him with Dave Parker for 45th on the career list. It also was Thomas' 920th career extra-base hit, tying him with Willie McCovey in 44th place.
The A's had lost three straight and 10 of 11. They had the lead in seven of those losses and eight of the defeats were by two or fewer runs. Three were in extra innings.
Oakland rallied from four runs down Tuesday night only to lose 8-7 in 10 innings to fall a season-worst six games under .500.
Blanton allowed his fewest hits in his third career complete game, struck out five and walked two while throwing a season-high 118 pitches.
"I forgot about pitching for a little bit. It was great to see," Blanton said. "I wouldn't say I'm exactly where I want to be. I feel like I'm getting more comfortable with my mechanics."
The Royals were trying to sweep a road series for the first time in nearly three years - since taking three games at Texas from July 11-13, 2003. They have gone 73 straight road series without a sweep.
Kansas City won the first two games by a total of three runs to capture its first road series since taking two of three in Oakland from Aug. 19-21, when the Royals ended a 19-game losing streak.
With their 21st defeat in May, the Royals matched their most losses in a month - equaling their total from August 1999 and August 2005.
After allowing back-to-back hits with one out in the third, Blanton (5-5) retired 13 of his next 15 batters.
Thomas, in his first season as the A's designated hitter after spending his first 16 years in the majors with the Chicago White Sox, has looked stronger at the plate in recent weeks after batting .190 (15-for-79) in April.
His homer off Scott Elarton (1-6) was his second in three games.
Copyright 2018 The Associated Press. All rights reserved. This material may not be published, broadcast, rewritten or redistributed. We strive to uphold our values for every story published.