Scott Riggs could market some catchy T-shirts:
"I had the best run of my NASCAR Nextel Cup Series career and all I got was this lousy 13th-place finish."
You can't blame him.
Riggs, in his third full Cup season, had what was easily his most productive weekend in the series at Lowe's Motor Speedway in Concord, N.C., winning the pole for the Coca-Cola 600, then spending most of the race Sunday night battling up front for the win.
But an ill-timed miscue on pit road late in the race prevented Riggs from getting a decent shot at his first series victory.
"We didn't even get a chance to swing the bat," he said.
No, but they knew he was at the plate.
Entering last Sunday's race, Riggs had led a total of 33 laps in his Cup career. He eclipsed that mark in the first hour of Sunday's race, leading the first 35 laps and 90 of 400 in the race.
Riggs, who joined Evernham Motorsports in the offseason but failed to make the field for the season-opening Daytona 500, seems finally on the verge of capitalizing on the move.
"Our confidence is up because we know we can run well," Riggs said. "At the same time, we're still putting a lot of pressure on ourselves not to make mistakes and then we make mistakes.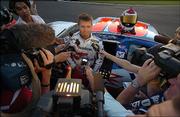 "We just need to pull together as a team and not point fingers at each other and make sure we all stay confident in each other and remember we are a team.
"It takes every single one of us, and we don't need anybody getting down."
Finishing 13th in a race he believed he had a chance to win is particularly disappointing to Riggs. It is also far more telling about his potential than his career-best second-place finish last season at Michigan.
"In that race, we stole one," Riggs said. "We finished second in a car that wasn't a second-place car because of fuel mileage.
"This time we lost one. I'm not saying we could have won the race. All I wanted was a shot - a shot to race with Kasey Kahne and Jimmie Johnson and Carl Edwards and find out where we stood."
Driver profile
¢ Name: Scott Riggs ¢ Age: 34 ¢ Hometown: Bahama, N.C. ¢ Ride: No. 10 Dodge Charger ¢ Team: Evernham Motorsports ¢ Nextel Cup stats: 82 starts; 0 wins; 3 top fives; 9 top 10s; 2 poles ¢ Busch Series stats: 72 starts; 4 wins; 19 top fives; 31 top 10s; 2 poles ¢ NASCAR Truck Series stats: 43 starts; 5 wins; 15 top fives; 24 top 10s; 5 poles
While some drivers in such circumstances may want to put the race out of their minds, or instead focus on the next one, Riggs found enjoyment in returning to the scene of his disappointment.
He spent Tuesday and Wednesday testing NASCAR's new "Car of Tomorrow" at Lowe's Motor Speedway. The car will be phased into the Cup series over the next three years.
"It was good to get back here. It felt good to get back out on that track and feel that track underneath me," he said. "It didn't matter it wasn't the same car. I just wanted to know what it felt like to be out there on that track again."
Riggs' team owner, Ray Evernham, was just as disappointed as Riggs, even though his teammate Kahne won Sunday's race.
"I was a little upset, as a car owner should be. You see the guys work so hard. That crew works really hard. Mistakes in the pits have taken them out of a couple of races," Evernham said.
"The good news is that Scott Riggs has shown he can drive a race car and win races. They should have been in position to win (the 600). We've just got to stop inflicting wounds on ourselves.
"It would have been good to run in the top five, maybe (finish) 1-2. Again, it's a huge disappointment."
Copyright 2018 The Lawrence Journal-World. All rights reserved. This material may not be published, broadcast, rewritten or redistributed. We strive to uphold our values for every story published.