Salina — The Lawrence Raiders taught Emporia a hard lesson on Sunday at Dean Evans Stadium in the third round of the AAA American Legion state tournament: Even if you pitch around them, they still can win.
Emporia issued only four free passes - dissimilar to the nearly 15 free bases per game issued to the Raiders in their first two games, which they run-ruled. But the Raiders used the long ball - instead of playing small ball - to claim a 8-7 victory.
"I credit my kids for battling the whole game," Raiders coach Troy Wingert said. "It's been awhile since we've really been tested, and I'm proud of my kids for staying in it and battling the whole way through."
After leading for most of the game, the Raiders pitching staff began to unravel in the late innings, giving up two in the seventh and three in the eighth and allowing Emporia to jump ahead.
"Max (Ellenbecker) was pretty good. He just wasn't on top of his game," Wingert said. "He was sharp at times, and then he was loose at times, also. : We're battling the elements - the wind's blowing a little bit, it's kind of warm out here - but those are just excuses.
"I credit Daren Parker for coming in and keeping his composure because it was a big-time situation that he came up in."
Scott Heitshusen came up in a big-time situation as well and bailed out Ellenbecker and Parker with a walk-off solo home run - which quieted a rather boisterous Emporia crowd as soon as it left the bat.
Photo Gallery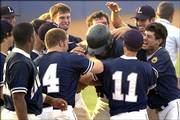 Lawrence Raiders
"When I've got a 3-1 count, I'm looking for a pitch right down the middle to middle-in," Heitshusen said. "And when they throw me a pitch like that, I'm definitely trying to end the game in that situation."
Heitshusen had the game winning home run, but the second of Tyler Knight's two-run blasts - this one coming in the bottom of the eighth and bouncing off the fence of the neighboring practice field behind the scoreboard was the game-saver. Knight's shot - following a two-out single by Kyle Cross - came on a full count with the Raiders trailing, 7-5.
"I've been struggling lately, not seeing the ball very well, so I was just trying to stay positive. I just saw it well today and got lucky on a few swings," said Knight, who is batting .455 in the tournament.
In the top of the ninth, Parker quickly set the stage for Heitshusen by pitching the Raiders' only three-up and three-down inning of the ballgame.
The Raiders could see Emporia again in the championship game, if Emporia is able to defeat xxxxx in the noon game that will decide the winner of the loser's bracket.
"I guarantee we'll play them again," said Knight, referring to Emporia. "I think we ticked them off a little bit, and they're out for blood. : Now we know they can do a lot more because we blew them out the first time, but I guess this tournament means a lot more to them, and they're going to be ready for us, so we've got to be ready for them."
The games can be followed live online at http://www.presentyourbest.com/aaalegionstate.
Lawrence 8, Emporia 7
Emporia 100 010 230-7 14 1
Lawrence 021 002 021-8 11 2
W-Daren Parker. HR-Tyler Knight 2, Scott Heitshusen. 2b-Lorenzo Ricketts.
Copyright 2018 The Lawrence Journal-World. All rights reserved. This material may not be published, broadcast, rewritten or redistributed. We strive to uphold our values for every story published.