Drive past any Dumpster in the so-called "student ghetto" today, and you'll see that they're brimming with big, bulky items. Couches, drawers, entertainment centers, mattresses - all casualties of student living.
This is the time of year when students transfer all their worldly belongings from one house or apartment to another, and all too often, some items don't make the cut.
Because most leases in Lawrence begin and end within five days of Aug. 1, this is prime time for dedicated Dumpster divers to score some free furniture.
"Free" is the key word here. Anyone who's had the experience of moving into their first apartment knows that collecting enough stuff to fill it is a major chore. And an expensive one.
Here are a few tips that will help you make the transition from your parent's house to your first apartment. With a bit of planning and an eye for bargains, you might still be able to cover rent and utilities.
Thrifty business
There are a few things that every apartment needs. A couch, maybe a chair or two, a dining set, a bed and random kitchen utensils and appliances.
For large furniture items, the cheapest way to go is thrift stores like Goodwill, 2200 W. 31st. There, you can find furniture as well as other household items like lamps, cups, plates and decorative knick-knacks. Also, big-box stores like SuperTarget, 3201 Iowa, donate defective items like desks and drawers. If you don't mind a chip here and there, you can save a lot of money buying these otherwise new items.
Photo Gallery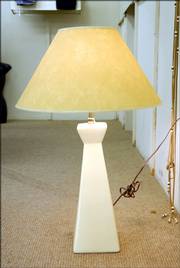 Trash and treasure
For upholstered furniture, make sure you'd feel comfortable lying facedown on the fabric. The last thing you want is a cheap couch you're afraid to sit on. If you love the shape of a couch but the upholstery isn't to your liking, you also can buy a chic slipcover from any discount store. Wal-Mart, 3300 Iowa, sells them for about $50 to $100.
And for wooden furniture, make sure you can lift it before you buy it. If it's made from cheap, compacted wood particles, then it's sure to be weighty. Most real wood is easier to carry.
The key to thrift stores is regular visits because the inventory is always changing. Also, local thrift stores in town often get picked over by the student population, which means that you've got to snag the good items before everyone else.
Cheap chic
If you can't stand the thought of sleeping on a mattress that belonged to someone else, you might want to invest in a new set.
Mattresses aren't cheap. For those willing to forgo comfort for a bargain, you can buy a low-end mattress set for around $200. But most mattress store workers will tell you that the $400 range is the lowest you should go.
Pay-Less Furniture Outlet, 2900 Iowa, stocks some of the cheapest mattresses in town.
Just ask owner Bob Fyfe.
He says he knows for a fact that his furniture's the cheapest in Lawrence. It's a hard claim to protest: Pay-Less sells full five-piece dinette sets for $170, couches for just over $200 and chests of drawers for around $50. Mattress prices run about $200 and up.
Fyfe says August is the busiest time of year for him. Next month, he expects 75 percent of his sales will go to college students.
Futons, he adds, are a top seller.
At Pay-Less, they sell for between $100 and $250. Futons have long been a student staple because they're cheap and multifunctional. The drawbacks are that they aren't as sturdy as a couch or as comfortable as a bed.
But for those in need of something that's easily movable and even easier to throw away in a few years, a futon is the best bet.
Splurging on style
While it's good to find bargains on high-ticket items, investing in a few things you really like is a good idea if you have the cash.
Target employs big-name designers to inject style into their everyday items. They even manage to make teapots look chic.
To accommodate the large student population in Lawrence, the local Target stocks tons of stuff for small-space living like kitchen utility carts and space organizers. But be warned: Assembly is required.
Also, Target's decorative items are definitely geared toward the college set.
So are the items at Urban Outfitters, 1013 Mass. This hipster haven stocks trendy yet classic plates, rugs and wall hangings that infuse a swank vibe into any abode.
Making it your own
Now that the major bases are covered, it's time to add some personality to your place. A good way to do this is to shop for one-of-a-kind pieces at local antique stores or garage sales.
Jamaica Billings, who works at Lawrence Antique Mall, 830 Mass., says that she sells "weird odds and ends" to students all the time.
"One guy came in the other day and said, 'I just moved out of my parents' house, and I need furniture!'" Billings says.
She adds that students also buy a lot of dishes, decanters, clothing, and salt and pepper shakers. And while her older customers shop for heirlooms, Billings says that the younger ones look for anything retro - think record players or vintage owl figurines.
Since most antique-store finds are one-of-a-kind, having them in your new home will make your space unique.
For more quirky touches, you might try shopping in unexpected places. At Au Marche, 931 Mass., you can choose from a wide variety of vintage-style maps of cities like Paris, Tokyo and Rome. At about $3.50 each, you can buy as many as you like and plaster your walls with them.
Home Depot, 1910 W. 31st St., is a great place to go for floor coverings. The store stocks supercheap astroturf and plush carpet remnants next to area rugs. While you're there, you might as well pick up a few other things, like cleaning supplies, light bulbs or extra cabinets if you're short on storage.
It's all in the details
For those moving away from home or out of student housing, stocking up on everyday items can be a huge wake-up call.
For the first time, students have to buy their own can opener, trash cans and toilet paper. Though these items seem small and inexpensive, eventually they could fill your shopping cart and empty your wallet.
Luckily, there are many all-inclusive sets on the market that can save you time and money.
At big-box stores, look for "kitchen in a box" sets. For about $20, you can buy one and have everything you'll ever need to cook - wooden spoons, whisks, can openers, bottle openers and tools you can't identify - for much less money than it would cost to buy each tool individually.
Likewise, purchasing a complete first-aid kit for about $10 will save you money. The kits include bandages, pain reliever and stomach medicine to cure about every minor ailment.
For the best deals on household items, browse the $1 section of any big-box store to find measuring cups, four-piece silverware sets, ice cube trays and the like.
If you're still overwhelmed with how much stuff you need, remember: Buy necessities first, and don't splurge on something that could very soon furnish your neighborhood Dumpster.
Copyright 2018 The Lawrence Journal-World. All rights reserved. This material may not be published, broadcast, rewritten or redistributed. We strive to uphold our values for every story published.