As a coach, Marv Levy always ran relatively easy training camps. He's doing the same as Buffalo's new general manager, although that didn't keep the Bills from having the first player of the NFL preseason to be hospitalized for heat-related problems.
That was John McCargo, Buffalo's second pick in the first round and the 26th overall choice last April. The 295-pound defensive tackle, was taken Saturday to a hospital in the Rochester, N.Y., area, though he was back at a light practice on Sunday.
"He just overextended himself," said his agent, Hadley Engelhard.
"Overextend" is a word that many NFL teams have been trying to avoid since the death of Minnesota offensive tackle Korey Stringer five years ago from heat stroke.
The concerns may be especially important right now, when most of the country is engulfed by a heat wave that is blamed for as many as 141 deaths in California. High temperatures and humidity in the East and Midwest are expected to continue well into next week.
NFL spokesman Greg Aiello said Sunday that no new guidelines had been sent to teams before camps this season, but that those strengthened after Stringer's death in 2001 were still in force. They ensure that players be monitored regularly by medical personnel and that water and other drinks to help avoid dehydration are at the practice facilities.
The Tennessee Titans opted for caution Sunday by letting defensive tackle Albert Haynesworth leave practice early with heat-related dizziness. With humidity and the temperature making it feel like 105 degrees, the Titans hit the field in full pads for the first time in training camp Sunday afternoon.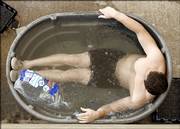 Haynesworth was treated inside the Titans' locker room at Austin Peay State University and did not return.
"Albert went real hard early in practice and got dizzy," coach Jeff Fisher said. "We're not going to take any risks there, so we took him in to cool him off."
Stringer's death also led to a gradual change in policy by coaches, including cutting down on two-a-day practices in the heat. Many coaches now alternate sessions - two on one day, then one the next. And more teams schedule practice at night, when it's cooler.
"It was different in the old days," says the 80-year-old Levy, the Hall of Famer who took over as Buffalo's general manager this year, nine years after retiring as the Bills' coach. "I'll even go back in my experience to Division III. Then if you had a drink if water during practice you were a sissy: 'You shouldn't drink water. Come on. Get tough.' We might think it's not that demanding to go twice a day, but it's not easy. These guys are big, talented, they're in shape. We've just to get them ready for the season."
Copyright 2018 The Associated Press. All rights reserved. This material may not be published, broadcast, rewritten or redistributed. We strive to uphold our values for every story published.