RIVER FALLS, WIS. — Between them, Ty Law and Patrick Surtain have appeared in seven Pro Bowls, three Super Bowls and the nightmares of countless wide receivers.
Now they're both in Kansas City and keeping their coaches awake at night.
The problem - if it can be called that - is where exactly to play these two highly accomplished stars, who also happen to be close friends and even neighbors.
Both prefer to line up on the left side, where they've played most of their careers. But both also have played on the right.
"You think it's the best situation, and in a way, it is," defensive coordinator Gunther Cunningham said. "But for a coach, it's also a dilemma."
What probably will happen is Cunningham and coach Herman Edwards will split the difference and play each man on each side week to week, depending on the opponent.
"I think you've got guys who have been on both sides, and they can adapt," Edwards said.
The footwork can be different depending on which side a cornerback lines up. And out there on that island, one small mistake can spell the difference between an incomplete pass and a game-losing touchdown.
"Sometimes when you've played one side and your footwork's on the left, it's very, very hard to transfer and go to the right," Edwards said. "These guys have done both, so that helps."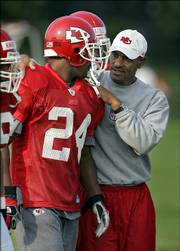 It's a system that works only if a team has top cornerbacks with the savvy and the skill to pull it off. It worked for the Chiefs in the early 1990s when Edwards, a former Pro Bowl cornerback himself, was the secondary coach under Marty Schottenheimer. Albert Lewis and Dale Carter, two of the best in the league, would rotate and often play man-to-man coverage.
"They just said, 'I got this cat, you got that cat.' And wherever they went, they just took them," Edwards said.
The Chiefs, desperate for help on defense, have not had this formidable a pair of cornerbacks in more than a decade. In the past four years their pass defense has finished 31st, 20th, 32nd and 30th.
But Surtain came last year in a trade with Miami and provided an immediate impact. Then Law signed a free-agent contract last month and arrived in camp Sunday to begin chipping the rust away from his prodigious skills.
"They've both played on both sides, and they've also played in the nickel," Edwards said. "That's kind of the character (a team wants), to have two guys like that."
Law led the league last year with 10 interceptions for the New York Jets - in Edwards' final year as head coach there.
"Remember, I haven't played football since last season," he said with a grin. "I didn't go to the playoffs last year. That was a little different for me. But any time you come to training camp, you're a little rusty. That's what training camp's for."
Law, like Surtain, is ready to dive into whatever system Edwards ultimately decides upon.
"We're going to rotate every week," he said. "We're both used to playing both sides. But (Surtain) was primarily left and I was as well. But he was here first. I'll start off on the right side. But during the season we're going to be matching up on receivers. Whatever receiver we have, that's the side we'll go to."
Copyright 2018 The Associated Press. All rights reserved. This material may not be published, broadcast, rewritten or redistributed. We strive to uphold our values for every story published.