There's something about the 14ers.
Famed in story and song, there are 70 or so - depending on who's counting, and how - mountain peaks in the lower 48 that rise over 14,000 feet, and climbing them all has become a sport all its own.
"It can be," said Lawrence's Dan Hughes, "a real obsession with some people."
The Valhalla of 14er peak-bagger pursuits is, naturally, Colorado, where 54 (again, give or take) of the 14ers reside. There are 15 more in California and one, Mount Rainier, in Washington.
Hughes said he had ticked off a dozen 14ers, might pick up a few more this fall, then four or five more next summer.
Though he's not obsessed, Hughes is hooked.
"For me, at least, I started in high school doing technical rock climbing," he said. "As I age, I don't want to do all that, but I still want to have the high-mountain experience. The 14ers : there are some with technical rock routes on them, where you can need a harness and rock gear, but you can take the route without having to get all geared up."
Most of the Colorado 14ers are more hike than climb.
Photo Gallery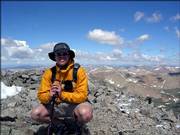 14ers
Climbs are ranked on a difficulty scale of 1-5.
A Class 1 is the most, well, pedestrian, akin to walking up the sidewalk.
Class 2 is a smooth trail with a few rocks. A hiker might have to put a hand down occasionally to maintain balance.
On a Class 3 climb, "You're using your hands quite a bit," Hughes said.
Class 4 is nontechnical rock climbing, with hands and feet on the rock at all times. Rope is often used.
And Class 5 is technical rock climbing, with the use of rope and belaying. "You definitely rope up at Class 5," Hughes said, "so you don't fall that far. At Class 5, if you fall, you're going to get hurt."
The easiest routes on the bulk of the Colorado 14ers are class 1 or 2, with a dozen or so in Class 3 and only a handful in Class 4.
'This isn't very smart'
That's not to say there's no danger.
Two years ago, Hughes decided to hit five 14ers in five days and bike between them.
Riding along the Colorado Trail, Hughes woke up early every morning, climbed the mountain, returned to break camp, rode the 15-20 miles to the next camp and did it all again the next day.
He bagged mounts Yale, Princeton, Anterro, Tabegauche and Shavano on that trip, which he refers to as a "gear geek's dream."
"It was fun. I got to take every toy we had available here," said Hughes, owner of Sunflower Outdoor & Bike. "I had my bike, trailer, solar charger, iPod - I carried way too much stuff."
Just two peaks into his trip, however, Hughes received a jolt. Almost literally.
On his way to Mount Princeton, he got caught in a typical Colorado afternoon thunderstorm. Every so often, he'd duck under a tree.
"I thought, 'Here I am, pushing a piece of metal up a mountain in a thunderstorm. I have two kids at home. This isn't very smart,'" Hughes recalled.
The storm passed, and Hughes reached the peak. From there, he called his mother, who relayed that another storm was on its way, so Hughes hightailed it off the peak.
"I stumbled about 13,700 feet and went head over heels in a scree field," Hughes said. "I hit my head. I didn't hurt myself, but I had some abrasions on the corners - elbows, knees. It got me to thinking a little bit about what would happen if I hurt myself. It could turn into a little epic real fast. Some of it was macho, 'I'm going to go bag these peaks.' But the other part was, 'You'd better watch yourself.'"
Half a million visitors
The 14ers are a popular destination. The Colorado Fourteeners Initiative, an environmental group, estimates 500,000 hikers annually attempt to summit at least one of Colorado's 14ers.
Only a few, however, have climbed them all. An estimated 1,200 climbers have accomplished the feat. That's fewer than the number of climbers to summit Everest.
But the 14ers aren't for everybody.
Take Lawrence's Kent Saturday, for example.
An avid climber, Saturday has bagged "a couple" of 14ers, but only by coincidence.
"I enjoy climbing, but I don't climb for numbers," he said. "I have climbed a couple of 14ers by chance. One was Long's Peak, at 14,255 feet, but by and large the only reason I climbed it was because of the beauty of the mountain and the style of climbing that I enjoy. That's more technical than walking up a cattle trail.
"I don't know what the allure is to 14,000-foot peaks. I don't know if people are just collecting numbers or what. It has to be the numerical value. There are so many peaks in the country and in the world that are much more beautiful to climb. Some (of the 14ers) are pretty unremarkable. Some of them, there's no mental or physical challenge."
In truth, that no doubt is part of the allure, that it's possible to get that feeling of being on top of the world - without being tied to it in mortal fear of falling. And Saturday readily admits that.
"When you go to Colorado, you're in a beautiful environment," Saturday said. "If you want the obvious, a 14er can be an objective or a goal. The older you get, one generally takes less risk in one's life. So the 14ers : somebody might be bagging those peaks just because of the number, but that still can be a positive. Anything that gets somebody outside, in nature, I think is a positive."
Purple mountain majesties
The song "America the Beautiful" was inspired by, and written atop, one of the most famous 14ers - Pike's Peak.
The 14ers have spawned dozens of books, several Web sites - a particularly nifty one, 14ers.com, has pictures, routes, trip reports, a slick mouse-over map and online checklists - and even some controversy about what makes a 14er a 14er.
Although there are 59 named peaks that rise over 14,000 feet in Colorado, only 54 generally are recognized as 14ers because of the guideline that a peak must rise at least 300 feet above the saddle that connects it to the nearest 14er peak.
There also is an arbitrary 3,000-feet rule to which some peak baggers adhere. It states a climb doesn't count unless the climber gains at least 3,000 feet on every 14er, a guideline that can add miles to many hikes.
And then there are subsets within the peak-bagger set. Some brave souls attempt to bag all the 14ers solo. Others do them only in winter, when conditions are much more difficult.
Remember Aron Ralston, the guy who got pinned under a boulder and had to amputate his own arm with a pocket knife to ensure his survival? He became the first person to do all 59 14ers solo and in winter, though it's worth noting his accident happened during a break in his quest. He was hiking alone in eastern Utah at the time. He completed his 14er challenge with the use of a prosthetic.
For the less adventurous, the 14ers can be a much more tame, though hardly less rewarding, destination.
"A surprising number of flat-landers go out there to do them," Hughes said. "It's only 81â2, 9 hours to the Front Range. It doesn't take much to go out there and get a couple and get hooked."
Copyright 2018 The Lawrence Journal-World. All rights reserved. This material may not be published, broadcast, rewritten or redistributed. We strive to uphold our values for every story published.