Hugh Cameron may have been eccentric - even wacky - but he remains Lawrence's best-known resident of a treehouse.
Cameron was among those who first settled Lawrence in 1854. He was a Union soldier, farmer, ferry operator, postmaster and justice of the peace before he become known as the "Kansas Hermit."
Sometime in the 1870s, according to David Dary's book "Lawrence, Douglas County, Kansas: An Informal History," Cameron became a recluse. Most stories attribute his change in lifestyle to an unrequited love.
For the next 30-some years, he lived in several unusual structures, including both ground-based log cabins and homes in the trees.
Dary writes that Cameron's last - and most elaborate - treehouse was at a ravine at Fifth and Louisiana streets, where a plaque commemorating him is today. He had a platform in a maple tree, and the area below was hollowed out to accommodate a kitchen and dining room.
By spring of 1908, he had both phone service and electricity in his fancy treehouse.
"He had a really sophisticated area to live there," says Ric Averill, who has studied Cameron's life.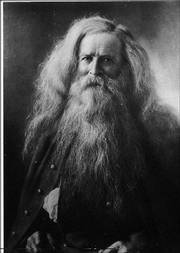 Averill, a local actor, director and playwright, has performed a solo play as Cameron.
For several decades, KU students would approach Cameron's home as somewhat of a prank - early on, they were greeted with a shotgun, and later on the hermit would sit with them around a campfire and tell stories that sometimes were partly true.
Averill loves the fact Cameron lived in a treehouse.
"It makes him a man of mystery and unique," Averill says. "He was almost savage and made for a great dare for young KU fraternity guys to go visit."
Every four years, Cameron would walk to Washington, D.C., to view the presidential inauguration. Toward the end of his life, he would ride a stars-and-stripes-clad mule in most any Lawrence parade.
He died in December 1908 at the age of 82.
Averill can't explain exactly why Cameron was attracted to treehouses, but he has theories.
"I think he really became a hermit - he liked being away from people and somewhat inaccessible, and he also tended to live near the river," Averill says. "It's possible that he lived in areas that might flood, hence better off in a tree."
Copyright 2018 The Lawrence Journal-World. All rights reserved. This material may not be published, broadcast, rewritten or redistributed. We strive to uphold our values for every story published.