Midwestern university cities report different ways of keeping open the lines of communication.
Some relationships are successful. Others, city and university leaders say, could use some help.
In Stillwater, Okla., the mayor and city commission meet with Oklahoma State University representatives quarterly, airing their "roundtable forum" on cable TV.
"It's basically a progress report," Stillwater City Manager Dan Galloway said. "We identify new issues and say, 'Here's what we've done on past issues.'"
Mayor Ross Wilburn of Iowa City, Iowa, home to the University of Iowa, said city and university leaders also attend quarterly meetings, but the dialogue goes beyond that. He said he had a close personal relationship with recently departed university president David Skorton. When the nonprofit crisis center Wilburn runs celebrated its anniversary, Skorton was a guest speaker.
"He called me Ross," he said. "I called him David."
Wilburn now is a member of the search committee for the next university president.
Town-gown problems
Lawrence Mayor Mike Amyx said the city has met jointly in the past with representatives from the school district, the county, Kansas University and Haskell Indian Nations University.
"We probably need to start those a little bit more regularly," he said.
But even when there are regular meetings and forums, problems can fester.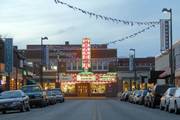 Fern Kupfer, professor at Iowa State University and head of the South Campus Area Neighborhood Assn., blamed both the city and the university for allowing her neighborhood to deteriorate as family dwellings were converted into student apartments. A community school and neighborhood grocery have closed, to be replaced by bars.
"There's a tipping point," she said. "And I don't know that we can get it back."
Kupfer said the university has shirked its responsibility for housing students, sending students into apartment buildings. And she said the city at times has been lax enforcing zoning codes.
Kupfer grew so outraged at the degradation in her community that she went undercover. Posing as a parent seeking an apartment for a student, and with a hidden tape recorder, Kupfer busted a landlord breaking zoning rules limiting the number of renters in buildings. She and others concerned about the neighborhood took that case and others to court.
"We won every single case," she said. "Now landlords are not buying older houses to rent for four and five people."
In Stillwater, where OSU received a $165-million donation to expand athletic facilities, there's been some strains on town-gown relations. The beefing up of athletics is part of a $700-million expansion plan, not only for athletics, but other aspects of the university, too.
Efforts to build an athletic village over what traditionally has been a residential area have created a stir.
"The principal element of a successful relationship is good communication systems - both officially and unofficially," said John Fowler, chief executive officer of the Stillwater Chamber of Commerce. "When there have been challenges here, they've generally come about because those systems may have broken down."
Stillwater resident Ted Agnew has tried to listen to what the university has to say about the development that forced him to part with his family home, but he said OSU simply wasn't telling the whole tale. Public meetings only broadcast the most general information, and he wondered whether the university even knew the plans or whether it simply is a pawn of the donor, oilman Boone Pickens.
"Nobody knew exactly what was coming," he said. "The university was very clumsy in its relations with the external community."
Common concerns
College communities often share typical college problems: Binge drinking. Drunken driving. Noise violations. Even, in some cases, a sense or knowledge that the university has its own rules.
The University of Missouri-Columbia is one such place, said Don Laird, president of the Columbia Chamber of Commerce. It has its own bus system, police force, water plant and other structures of autonomy.
"They can do what they damn well please," Laird said. "The university always has the upper hand because they can do what they want to."
Some think topography makes a difference. Roy Knapp, professor and former head of the faculty senate at the University of Oklahoma in Norman, said he thinks there may be less strain between the city and the university there because the terrain is flat.
"I could see how if I lived in Lawrence and I lived always looking up at the hill, it could bug me a little bit."
Copyright 2017 The Lawrence Journal-World. All rights reserved. This material may not be published, broadcast, rewritten or redistributed. We strive to uphold our values for every story published.