Wichita — Wichita school Supt. Winston Brooks said school employees told the state they suspected two girls were being abused or neglected 10 months before the children's parents were charged with abusing the children, a newspaper reported Saturday.
Teachers or staff at L'Ouverture Elementary School made two reports to the Kansas Department of Social and Rehabilitation Services, Brooks told The Wichita Eagle on Friday.
Brooks said the first report from the school to SRS was in September, the second in May. According to charges filed in Sedgwick County District Court, it was during that time that the girls, ages 6 and 7, were being tortured, beaten and inhumanely punished by their father and stepmother.
SRS spokesman Mike Deines declined to comment on how the department responded to the reports from the school, saying state law prohibits discussion of the case.
School personnel are required by law to report suspected abuse or neglect of children, Brooks said. He and other district officials told the Eagle they couldn't discuss specifics of the reports.
On Thursday, prosecutors filed charges alleging that the girls' father and stepmother abused the children over a 10-month period that began in September and ended July 19, two days before the girls were taken from their home.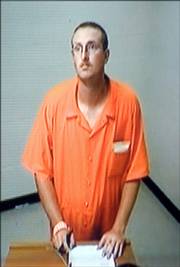 A social worker found Alex Wood's starving, dehydrated daughters last week in the basement of a Wichita home that was well-stocked with food. The girls reportedly said they ate only when their father wasn't traveling on business. Alex and Jennifer Wood married about a year ago, officials said.
Alex A. Wood, 28, and Jennifer L. Wood, 27, are charged with two counts each of felony child abuse. Jennifer Wood also is charged with aggravated battery, based on the allegation that she choked one of the girls.
On Friday, Sedgwick County Jail staff put Jennifer Wood in a cell by herself because she had been threatened by other inmates, said her lawyer, Roger Falk.
"That's one of the reasons why I was trying to keep her out of jail," said Falk, who had unsuccessfully argued in court for a lower bond that would have allowed Wood to stay out of jail. She had been released Monday after posting a $50,000 bond. On Thursday, District Judge Joe Kisner raised the bond to $100,000, causing her to return to jail.
Sedgwick County sheriff's Col. Bob Hinshaw said he couldn't confirm whether Jennifer Wood had been moved away from other inmates or whether she had been threatened. But, he said, inmates can be put in isolation until staff determine it's safe to place them with other inmates.
Jennifer Wood denies she is guilty of the charges, Falk said. The Woods' preliminary hearing is scheduled for Aug. 10.
District records also show that the school staff and the girls' family had a "follow-up visit" during the 2004-05 school year to discuss a concern, district spokeswoman Susan Arensman said. She couldn't say what the meeting dealt with.
Police said they removed the girls from their south Wichita home July 21 after being alerted by an SRS social worker who went to check on the children. Two other children living there, the stepmother's biological children, also were taken into protective custody.
Police said the two girls had become severely emaciated and dehydrated after being deprived of food and water. The girls have been released from a hospital and remain in protective custody.
Copyright 2018 The Associated Press. All rights reserved. This material may not be published, broadcast, rewritten or redistributed. We strive to uphold our values for every story published.