Beirut, Lebanon — Israeli troops pulled back from a Lebanese border town Saturday after a week of heavy fighting with Hezbollah guerrillas who hailed the retreat as a victory. Secretary of State Condoleezza Rice returned to the Middle East to push a refined U.S. peace plan.
The Israeli pullback from the town of Bint Jbail appeared to be in preparation for a new incursion along a different part of the border zone. Hours later, troops and tanks massed farther to the east on the Israeli side of the frontier, Lebanese security officials said early today.
Lebanese civilians were suffering the most from the fighting, which erupted after Hezbollah kidnapped two Israeli soldiers in a cross-border raid July 12. On Saturday, warplanes struck outside the market town of Nabatiyeh, crushing a house and killing a woman, her five children, and a man in a nearby house, Lebanese security officials said. In the southern port city of Tyre, volunteers buried 31 victims of the bombardment in a mass grave, among them a 1-day-old girl.
Israel made its closest strike to Hezbollah ally Syria yet. Warplanes hit the Lebanese side of a Syrian-Lebanese border crossing, forcing the closure of the main transit point for refugees fleeing and humanitarian aid entering Lebanon. Two more missiles hit the area early today.
Hezbollah threat; Rice
Hezbollah leader Sheik Hassan Nasrallah marked Rice's arrival with a threat to fire rockets even deeper into Israel. Appearing on Hezbollah television, Nasrallah claimed victory, saying Israel had failed to make a "single military achievement" during its 18-day offensive.
Still, Rice said she was encouraged by a tentative Hezbollah commitment to allow international troops into southern Lebanon and eventually disarm. She met with Israeli Prime Minister Ehud Olmert in Jerusalem Saturday evening, and was expected to stop in Lebanon, though no visit was announced.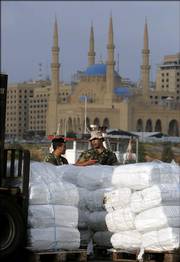 She said compromises would be needed from everyone.
"These are really hard and emotional decisions for both sides, under extreme pressure in a difficult set of circumstances," Rice said. "And so I expect the discussions to be difficult but there will have to be give-and-take."
Israel Radio reported Rice plans to travel to the United Nations on Tuesday and hopes the Security Council can prepare a resolution calling for a cease-fire on Wednesday. The report said Israel would not agree to stand down until Hezbollah was incapable of resuming rocket fire Israel.
U.N. draft resolution
France circulated a draft Security Council resolution on Saturday among the other 14 council members. It would call for an immediate halt to fighting between Israel and Hezbollah and seek a wide new buffer zone in south Lebanon monitored by international forces and the Lebanese army.
The question of Hezbollah's sincerity toward negotiations is crucial to Rice's second attempt to broker a cease-fire. The United States and Israel insist any deal must ensure Hezbollah guerrillas are pushed back from Israel's northern border before fighting can stop.
Nasrallah said he would cooperate with the Lebanese government in negotiations toward ending the crisis. But he was vague about how far he would go, and suggested that disarmament would be off the table if conditions outlined by Lebanon are not met - including the resolution of a border dispute with Israel.
The bearded Shiite Muslim cleric, wearing his trademark black turban, gave his latest televised address a day after Hezbollah fired its deepest strike in to Israel yet, hitting outside the town of Afula.
"No matter how long the war lasts, whatever sacrifices it takes, we are ready. We will not be broken or defeated," he said.
"Many cities in the center (of Israel) will be targeted ... if the savage aggression continues on our country, people and villages."
No full-fledged invasion
Despite its intense bombardment of Lebanon - and heavy ground fighting near the border - Israel has been unable to stop barrages of hundreds of Hezbollah rockets. Guerrillas fired at least 90 rockets into Israel Saturday, lightly injuring five people.
Israel has said it will launch a series of limited ground incursions into Lebanon to push back guerrillas, rather than carrying out a full-fledged invasion. The pullback from Bint Jbail suggested that thrust, launched a week ago, had ended.
Lebanese officials reported a massing of troops and tanks near the Israeli town of Metulla further to the northeast, on the tip of the Galilee Panhandle near the Golan Heights, indicating another incursion could begin soon.
Like Bint Jbail, the Lebanese town of Khiam just across the border from Metulla is one of the largest in the border zone. Khiam has been under intense bombardment in recent days - including a strike that hit a U.N. post nearby and killed four observers on Tuesday.
An Israeli strike near the border Saturday hit near a U.N. peacekeepers' station, wounding two. The world body had just relocated unarmed U.N. observers to the peacekeepers' posts for safety after the four deaths.
Israel's pullback of its forces from Bint Jbail ended the bloodiest siege in what has so far been only a limited ground incursion into southern Lebanon.
Death toll
At least 458 Lebanese have been killed in the fighting, according to a Health Ministry count Friday based on the number of bodies in hospitals, plus Saturday's deaths. Some estimates range as high as 600 dead, with many bodies buried in rubble.
Thirty-three Israeli soldiers have died, and Hezbollah rocket attacks on northern Israel have killed 19 civilians, the Israeli army said.
The United States is under increasing pressure to quickly end the fighting, which in the last weeks has spiraled into an all-out Israeli attempt to end Hezbollah's domination of south Lebanon.
U.S. plan
The peace package Rice brings to the region addresses some of the demands made in the Lebanese government proposal that Hezbollah reluctantly supported.
The U.S. package calls for a U.N.-mandated multinational force that can help stabilize in the region, according to a U.S. official speaking on condition of anonymity because of the sensitive nature of the discussions.
It also proposes: disarming Hezbollah and integrating the guerrilla force into the Lebanese army; Hezbollah's return of Israeli prisoners; a buffer zone in southern Lebanon to put Hezbollah rockets out of range of Israel; a commitment to resolve the status of a piece of land held by Israel and claimed by Lebanon; and the creation of an international reconstruction plan for Lebanon.
The latter two provisions resembled parts of Beirut's proposal. But they fall short of the demands sought by Hezbollah, including a prisoner swap to free Lebanese held for years in Israeli prisons and the disputed land, known as Chebaa farms, put under U.N. supervision until its status can be resolved.
Copyright 2017 The Associated Press. All rights reserved. This material may not be published, broadcast, rewritten or redistributed. We strive to uphold our values for every story published.