Meet Chris Hutchens, an insurance salesman from Lawrence, and Craig Wright, who is in advertising in Topeka. They thought they were playing in a routine member-guest tournament at Lake Perry Country Club a couple of weekends ago. And then Wright reached into his closet for a visor he never had worn and brought the golfers to a new dimension.
"There was weird golf karma all weekend," Wright understated.
Try this visor on for weird: Wright aced a hole at Palm Desert in Palm Springs, Calif., where he had gone for a family reunion in the summer of 2005. Afterward, he bought a visor as a keepsake from the course.
"The only reason I brought it out of the closet was it was so hot," Wright said.
He told the other three golfers in his group, including Hutchens, "I just want to let you guys know, I've got my hole-in-one visor on."
Hutchens aced the fifth hole on the first day of the tournament.
"He doesn't even shake my hand, he just says, "Hutch, It's the visor, '" Hutchens said.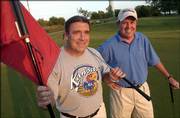 The next day, Wright aced No. 10, and according to Hutchens, again said, "Hutch, I'm telling you, it's the visor."
Each man now counts three aces to his name. Wright was grateful this one wasn't in Palm Springs because of the tradition that demands a golfer who aces must buy drinks.
"The Palm Desert deal was three rounds, six drinks, and some kind of slushy drink my sister-in-law was drinking," he said. "If I'm going to pay $110 for drinks, I should at least get a lap dance with that."
Anyway, Wright's first hole-in-one came on the same hole he watched Hutchens, a former Kansas University golfer, ace 10 years later.
The pair of ace-makers finished second in the tournament, and their story impressed Chris Rodell, who in 2003 wrote a book titled, "Hole in One! The complete book of fact, legend and lore on golf's luckiest shot."
"That reminds me of my favorite hole-in-one story, which was my inspiration for writing the book," Rodell said by phone from his home in Latrobe, Pa., hometown of Arnold Palmer.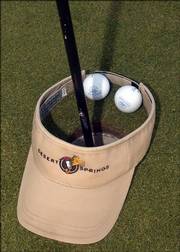 Rodell, who lives on Arnold Palmer Drive, proceeded to share the story of Palmer acing the same hole two days in a row during the 1986 Chrysler Cup pro-am rounds at Avenel in Washington, D.C.. Palmer told Rodell that on the second day he asked a camera crew why they were there filming him teeing off on the third hole.
"We're here to film your hole-in-one," was the response.
"You're a day late," he told them.
But, because they went to the trouble of showing up, he aced it again.
Rodell also writes about Larry Alford, who lost his left arm below the elbow, and by the author's count has 15 aces since then.
Rodell also includes the bizarre happenings at the 1989 U.S. Open at Oak Hill in Rochester, N.Y. Jerry Pate, Nick Price, Doug Weaver and Mark Wiebe all aced No. 6 using a 7-iron.
Words of wisdom
"Nobody ever looked up and saw a good shot." - Don Herold
"I've come close, but I've never had one," Rodell said. "Everyone I asked for advice said aim at the hole. Most of us go up there and just hope to get it on the green and don't aim for the hole."
Rodell's book came out too soon to tell the tale of Hutchens and Wright. Too bad. It would have been worthy of inclusion.
Tip
By Jon Zylstra
Learn to control the golf ball before you can hit it farther. Most golfers do not play to their potential because of directional problems.
To control the ball, first learn to control the force of the club moving around the body. Learn to swing at a pace that lets you feel you can change directions at the top without losing control. If you swing the club back too fast, the pressure to stop the club at the top builds up pressure in your arms, which destroys your sense of feel and rhythm, and almost always ruins your chances of getting the club back down on an inside path.
The most important factor in the golf swing is motion, the motion in which the clubhead travels on the correct path, like a weight at the end of string.
You can't play golf well without it. So the less strength you have, the slower you must swing the club to maintain control and keep unwanted tightness out of your body.
- Tipster Jon Zylstra is head pro at Lawrence Country Club.
This week in golf:
Hole
No. 5, Alvamar Country Club
Par: 5. Yards: 507 (championship tee)
This long dogleg left that can include some sloped fairway lies is the No. 1 handicap hole on the course. It's best not to even think about the water (water, what water?) in front of you as you are teeing off. Aim to the right-center of the fairway, but not so far right that it ends up in the woods. A ball that lands to the right of center will roll toward the middle of the fairway.
Copyright 2018 The Lawrence Journal-World. All rights reserved. This material may not be published, broadcast, rewritten or redistributed. We strive to uphold our values for every story published.