Late one evening, about a year ago, Jim Lanius was visiting with Valerie Paulsen in her living room. Jim brought up the subject of marriage, something he'd danced around before during their four-year relationship.
"All of a sudden he dropped to a knee and asked if I would marry him," Valerie recalled, "and, I told him yes."
That was when Jim realized he had no ring.
"I'm really not a jewelry person," Valerie said, 'but I looked at Jim and said, 'I want a ring ... right now ... nothing fancy, just a ring.'"
They headed for JC Penney on South Iowa Street.
"I think we found a discount coupon in the paper ... he got off easy," she recalled.
At Penney's jewelry department, they made their selection and, according to Jim, he re-enacted a De Beers (diamond company) television commercial.
"I got down on a knee and shouted 'I love this woman,'" Jim said.
The sales clerk was impressed but, according to Valerie, few noticed the drama.
Audio Slideshow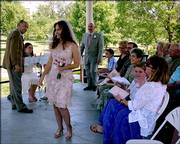 Couples - Paulsen and Lanius wedding
On July 1, 2006, Jim, 55, and Valerie, 46, were married in the South Park bandstand to the delight and applause of friends and family members. Valerie's 12-year-old daughter, Allison Morte, played a little Vivaldi and a piece of Mozart on her flute while a steady breeze blew through the small group. Emily Paulsen was the other half of the duo on clarinet.
Jim and Valerie's first step toward that bandstand and their highly improbable marriage began five years earlier in May 2001 when "Shotgunjimi" (Jim) in St. Louis sent an e-mail to "DawnQuixote" (Valerie) in Lawrence.
"I was looking at a bulletin board on Earthlink and saw this exchange involving Dawn Quixote and thought it was a great name," Jim said. He sent "Dawn" an e-mail complimenting her nickname and eventually got a reply.
During the next three months, their computerized exchanges covered a mutual love of blues and they discovered each had been disc jockeys at clubs. Valerie had actually done a brief stint on a California radio station. And both liked to attend blues concerts without drinking alcohol.
Three months passed.
"I really didn't think it would be anything more than an Internet friendship until we exchanged snapshots and I saw her beautiful green eyes," Jim recalled.
Jim said he "just loves green eyes," and delivered that message to Valerie in an e-mail.
Valerie was impressed.
"I didn't think my eyes were ever properly appreciated so when he asked if my eyes were really green I went 'Whoooowee,'" she said.
After Jim went into great detail about himself - "I told her everything but my Social Security number" - he made a visit to Lawrence. He said he was prepared to have a door shut in his face. Instead, they talked for hours and Valerie turned down Pachamama's for pizza at Papa Keno's. Jim stayed in a hotel and the next morning they talked some more over breakfast.
Valerie visited Jim in St. Louis. When he took her to the airport he asked that she not date "anyone but me."
She said, "OK."
During the next year, Jim put 60,000 miles on his car driving Interstate 70 between Lawrence and St. Louis.
Jim's printing job of 32 years vanished and - in what he describes as a leap of faith - he sold his house and moved to Lawrence, living separately from Valerie.
In the meantime, Valerie was pursuing a master's degree in speech pathology, working part-time and raising her daughter. Jim was unemployed for 18 months.
"I wasn't worried that he'd find a job but I didn't think this was a great time to get married so that did slow us down," Valerie said.
Today, Valerie is a speech pathologist in Topeka's school system and a St. Louis Cardinal fan. Jim works as a printer at Allen Press and roots for Kansas University.
"I didn't realize how romantic our relationship was until I was got to thinking about it," Valerie said. "It's really amazing."
Copyright 2017 The Lawrence Journal-World. All rights reserved. This material may not be published, broadcast, rewritten or redistributed. We strive to uphold our values for every story published.