RIVER FALLS, WIS. — It's close to 100 degrees in normally balmy western Wisconsin, and Herman Edwards is wearing a sweat shirt.
If his players have to be hot and miserable, then he'll be hot and miserable, too.
The first-year coach of the Kansas City Chiefs learned a lot during his playing career as a Pro Bowl defensive back, especially about how much players appreciate the little things in their coach.
"When they look at me, they know I'm sweating, too," he said Saturday as the Chiefs went through their first two-a-day drills. "So keep working. I've always done this. I've done it my whole career as a coach. I've got to get my mind right, too."
He even wore sweat shirts during practice as an assistant coach to Tony Dungy in steamy Tampa Bay.
"Everybody looked at me like I was crazy," he said. "I did it every day. Tony looked at me like I was crazy. I said I'm going to keep wearing it until somebody runs me out of it."
In ways big and small, Edwards is busily putting his personal stamp on the Chiefs and erasing many earmarks of his predecessor, Dick Vermeil. One key difference that became instantly apparent is the length of training camp practices.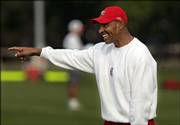 Where Vermeil might work his players more than two hours, sometimes three, Edwards keeps it shorter, usually about one hour, 45 minutes or less.
In the unusual heat which has descended upon the North Woods, he's also careful to rest veterans. Temperatures this weekend were forecast to reach 100 for the first time in River Falls in 14 years.
"We'll change practice around a little bit," Edwards said. "We'll do some things different. The time will stay the same, but the way we go about practice will be different. I'll let the big guys in 15 minutes early and keep the receivers and (defensive backs) out a little later and probably take the pads off of them.
"You've got to protect these guys. You don't want to kill your team on the practice field."
It's something he learned the hard way in Vermeil's Philadelphia Eagles camp in the 1970s, rising from undrafted free agent to starting cornerback in the Super Bowl and Pro Bowl.
"I was fortunate," he said with a laugh. "When I practiced, I had coach Vermeil and he brought in 125 guys. But now with only 80-90 guys, you've got to be careful because what happens is the reps fall on the other guys' shoulders, and that's not good.
"I just think the more you sit in this chair as a head coach and being a former player, it helps you make decisions like that."
His approach has not gone unnoticed.
"I noticed he has a sweat shirt on," said deep snapper Kendall Gammon. "People notice."
If not for the traces of gray in his hair, the lean, muscular 50-something head coach could easily be mistaken for a player.
"He's probably got a couple of series in him," Gammon said. "I don't know if he's got a whole game, but he's got at least a couple of series."
One worrisome injury cropped up during Friday's workouts. Pro Bowl left guard Brian Waters injured his foot in the morning.
"It's a mid-foot sprain and right now it's day-to-day," Edwards said. "We don't know how long it's going to be. The good thing is that the X-rays show there's no break, just a sprain."
Copyright 2018 The Associated Press. All rights reserved. This material may not be published, broadcast, rewritten or redistributed. We strive to uphold our values for every story published.