Shelby Hentges was really taking this whole moving thing well.
Because it was seriously hot outside.
And her car was seriously stuck on the side of the road in front of her house.
"It's fine," she said Saturday afternoon, sweat pouring from her brow. "It's hot. And sure, my car broke down. But it's fine."
Hentges said that "worse things" happen. But save for a brutal rainstorm, Saturday's weather made for a weekend of moving that couldn't have gotten much worse for many residents.
Temperatures reached 100 degrees Saturday, with more high heat and humidity levels expected today, leaving a litany of off-campus students and others in Lawrence sweating in moving trucks that quickly became makeshift ovens.
Many Lawrence landlords - especially those who cater to students - begin the new year's lease Aug. 1. So this weekend marks the beginning and end of the city's unofficial moving season.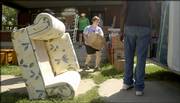 Up and down Lawrence streets, old couches and mattresses lined curbs Saturday. Residents also darted in and out of homes and cars carrying armfuls of boxes and other items.
Jesse Morrison, a KU senior from Leawood, spent most of Saturday with his parents carting boxes to his new rental and cleaning out his old apartment house in the 900 block of Louisiana Street.
"It's hell for now," he said.
Aside from going in and out of the scorching heat all day, the inside knob to the front door of he and his roommates' new rental in the 1000 block of Rhode Island Street broke off during the afternoon move.
They had already stacked boxes in the living room, and Morrison said they would have everything into the house by the end of the day.
But settling in will be a different story.
"I think it will take us about a week to get all of it done," he said as his roommates laughed.
Heat advisory
The National Weather Service will institute a heat advisory from 1 p.m. today to 7 p.m. Tuesday for Douglas County and much of eastern Kansas. Forecasters expect hot temperatures and high humidity levels will push the heat index into the 105-degree to 110-degree range.
Copyright 2017 The Lawrence Journal-World. All rights reserved. This material may not be published, broadcast, rewritten or redistributed. We strive to uphold our values for every story published.