Tyre, Lebanon — When Israeli airstrikes tore through the lemon orchards and potato patches of Mansouri, a village near Lebanon's border with Israel, the Mdayhli family disappeared.
Manal Mdayhli, her husband and their infant daughter took cover with strangers in a neighboring village, where relief workers discovered them days later, hungry and with no word of their relatives.
On Saturday, news trickled in. One cousin had been evacuated to Germany. An aunt was camping at a school in Beirut. Another cousin, Darwish Mdayhli, had become body No. 97 in a mass grave in the southern port city of Tyre.
The whereabouts of many others are still unknown, uprooted, like tens of thousands of other Lebanese villagers, from places where their families have lived for generations. The resulting demographic shift will take months, probably years, to sort out.
In their rush to escape Israel's offensive against Hezbollah, displaced families have ended up with strangers, in schools, in parks, in rows of unmarked graves. Shiite Muslim families have sought shelter among Christians.
Lebanese families have gained sanctuary in Palestinian refugee camps.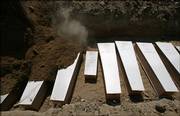 They struggle to stay together. And they go anywhere but home.
"There is a kind of glory that comes when you are buried in your own soil," said Manal Mdayhli, her veil pulled across her mouth to mask the stench as workers dumped rotting bodies into plywood coffins at a mass burial in Tyre on Saturday. "I don't know that any of us will get that honor now."
Every hour, more families join the lethal game of hopscotch as they flee their homes in search of cover from Israeli airstrikes.
With each jump, the lucky ones inch farther away from the bloodshed: from Bint Jbail on the border to Rmeish a mile north to Tyre further up the coast, then to Sidon, and finally to Beirut.
Many families lost members along the trail north. Refugees recounted story after story of shrapnel hitting their cars. Passing drivers scooped up the survivors; dead relatives were left behind.
When they finally arrived at relief centers with working televisions, they sat glued to Lebanese channels that broadcast a crawl of text messages from those who were separated from their families. "To Fatima from Bint Jbail, we are waiting for you," one message read.
In the Darwinian scramble to safety, the old or sick often didn't make it. Saturday's mass burial included an 80-year-old woman discovered in her garden and a 90-year-old neighbor pulled from the debris of her home at least eight days after she had died. With no trace of their families, they were lowered into the earth, attended by foreign news photographers and a cleric who'd never met them.
"My heart is crying, but I keep the tears inside so the people don't see it," said the Shiite cleric, Akil Zeineddine. "We may have different religions, but we have the same roots and the same blood. Even if they are buried far away from their homes, they are still in Lebanon."
Copyright 2018 The Lawrence Journal-World. All rights reserved. This material may not be published, broadcast, rewritten or redistributed. We strive to uphold our values for every story published.