No matter how you slice it, buying a home in Lawrence is more difficult than it is in many other Midwestern university cities.
A Journal-World analysis of seven major Midwestern university cities found that Lawrence in 2005 had both the highest average selling price of a home and the largest gap between home prices and average incomes.
The findings didn't elicit surprise from watchers of the Lawrence real estate market, where discussions about affordability have been ongoing for a decade or more.
"We have a challenge with entry-level housing in this market," said Bill Yanek, a member of the city's Housing Needs Task Force, who follows the area real estate market as a lobbyist for the Lawrence Board of Realtors.
The analysis found that in 2005, the average selling price for all Lawrence homes was $187,465. That was more than $7,000 higher than the next highest city on the list - Ames, Iowa, home to Iowa State University. Other Midwestern cities chosen for the comparison were Iowa City, home to the University of Iowa; Columbia, Mo., home to the University of Missouri; Stillwater, Okla., home to Oklahoma State University; Norman, Okla., home to the University of Oklahoma; and Manhattan, home to Kansas State University.
Lawrence income levels also weren't doing much to help residents. The 2005 median family income in Lawrence - as determined by the federal department of Housing and Urban Development - was $62,200. That ranked Lawrence third among the seven cities analyzed. Despite that, the average home price was still three times more than the average income. That was the highest ratio of any of the communities examined, with Manhattan closely behind at 2.9 times income.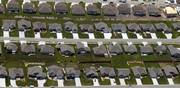 Every other community had home prices that were 2.6 to 2.3 times higher than average incomes.
Those numbers, though, may not be as bad as they sound. Kirk McClure, an associate professor of urban planning at KU, said those numbers show Lawrence really has a pretty average market for housing prices.
"Some people, I think, try to describe the problem in a way that makes it sound worse than it is," said McClure, who studies housing markets nationwide.
McClure said most researchers consider a real estate market to be healthy if its housing prices are anywhere from 2.5 to 4 times more than annual incomes.
McClure, though, said people are correct when they say some have difficulty buying an entry-level home in Lawrence.
"We have a problem related to income, not housing prices," McClure said. "You can't blame the housing industry for that. We just have to figure out how to get people more income. It is hard to own a home in almost any community if your job is standing behind a cash register."
What the city doesn't have is a shortage of homes, McClure said. He thinks the city overbuilt homes during the 1990s, when population grew by 22 percent but housing units grew by 27 percent.
Tax rates
Average homes prices in Lawrence may be more expensive than in several other Midwestern university communities, but the city's tax rate is not, the Journal-World found. The property taxes on an average Lawrence home in 2005 ended up being about 1.2 percent of the purchase price of the home. That ranked the city just behind Columbia, Mo., and Stillwater, Okla., which both figured out to 1.1 percent of a home's sale price. The comparison looked at property taxes charged by the city, county, school district and any other governmental unit: Columbia, Mo.: 1.1 percent of sale price Stillwater, Okla.: 1.1 percent Lawrence: 1.2 percent Norman, Okla.: 1.2 percent Manhattan: 1.3 percent Ames, Iowa: 1.4 percent Iowa City: 1.6 percent
Yanek, though, said he thought the number of homes available in the city was an issue that was driving Lawrence prices higher than in other communities.
"I think it is a supply and demand issue," Yanek said. "There are too few homes for sale in Lawrence, considering that we have a huge number of people who want to live here."
Yanek speculated the reason Lawrence may not adequately be keeping up with demand is because of the length of time it takes to get new housing developments approved in the city.
"I think the process is shorter in a lot of areas," Yanek said. "I don't think we're the worst, but in talking with a lot of folks from around the country, I think we are in the league where it is difficult to develop and build."
City commissioners have already ordered a review of the city's development process. Several builders said they believed the city would make changes to create more efficiency in the process.
Lawrence may have been at the top of the list in terms of housing prices, but nearly every community analyzed said the topic of housing affordability was a hot one.
Some community leaders said it was just part of being a university community.
"I think the incomes we have in the community are what drives a lot of this," said Mitch Friedow, a real estate appraiser for Ames.
"We have a highly educated community, and there are people who will pay for expensive homes. It just unfortunately locks some people out from being able to acquire real estate in Ames."
In Manhattan, affordability issues are increasing, said Greg McHenry, deputy county appraiser. Based on 2005 prices, Manhattan had home prices that ranked in the middle of the cities analyzed.
But based on data from the first six months of this year, real estate prices seem to be exploding, fueled by an expected influx of residents that will come to the area as nearby Fort Riley expands. McHenry said average sale prices went from about $163,000 in 2005 to $183,346 through the end of May. What makes that price more difficult is the city had the third-lowest average income of the cities analyzed.
"People are talking about affordability issues all the time," McHenry said. "County and city commissioners are very concerned about it. It is just very difficult to keep up with the demand right now."
Copyright 2018 The Lawrence Journal-World. All rights reserved. This material may not be published, broadcast, rewritten or redistributed. We strive to uphold our values for every story published.