The horse's face moved down, closer to the young girl with the sling around her arm.
"I only have one hand, OK, Maria," Jessica Birney, 13, warned the animal hulking above her. "Now you be good."
Maria looked down, eyes calm. A moment later, 10-year-old Kelsie Middaugh walked over and took the reins from her friend. She gave Maria a hello, planting a kiss on her head.
"She's a very good horse," Kelsie said.
Kelsie knew her horse well, having spent hours nearly every day with her at the stable where she lives. Now, at the Douglas County Fair's annual 4-H horse show, Kelsie and dozens of other 4-Hers showed off their horse-handling skills at the county fairgrounds Saturday.
The show this year drew 38 entrants from all over the county, with each 4-H member entering their horse in an average of five or six events, organizers said.
The events ranged from showmanship - where judges watch for how the kids handle themselves around their horses - to more complicated events such as Western horsemanship and English Equitation.
Photo Gallery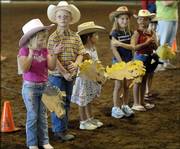 Horse show
"We're looking for how the individual shows off the animal," county extension officer and agriculture agent Bill Wood explained.
From his elevated post at the announcer's table, Wood pointed at a young girl in traditional equestrian rider's gear leading a horse around the dirt arena.
"See there? You can see the little girl moving from side to side," he said. "She knows how to handle her horse."
But in a den full of horses, one or two were bound to get rattled by one another. Every now and then, a horse bucked up on its hind legs, let out a long snort or jerked its head away from a young handler.
Down by the entrance gate to the arena, Brooke Barrett helped the children steer clear of possible troubles, like horses getting too close to one another.
"Some of the younger kids just need help knowing where to go," she said.
But by and large, the handlers Saturday knew their animals well - the product of long hours feeding, grooming and riding their equestrian friends.
Heather Ikenberry, 11, walked her American miniature, EZ on the I, toward the arena, ready for competition.
EZ was a birthday present, and Heather said she spends hours on end with the horse, growing the bond between owner and animal.
"He may be short," she said, tugging on the reins, "but he's pretty strong."
Outside the main fairgrounds building, Delaney Dieker, 13, sat under a shade tree with her brown-and-white horse, Doc.
Delaney said she usually comes to the 4-H fair with cows, chickens and pigs. But she's been riding horses for years and said Doc's a personable animal she's been working with about three times a day for about a year.
Suddenly, Doc begins fussing, scratching at the ground with a front hoof.
"Doc, just quit it," Dieker said.
And, just that fast, Doc held still.
2006 Douglas County Fair highlights
Here are some of the main events at this year's Douglas County Fair. The Douglas County Fairgrounds are east of 21st and Harper streets. A more detailed list of events and other information can be found at the fair's Web site, www.dgcountyfair.com.
Today Open horse show, 9 a.m.
Monday Open foods and food preservation, 2 p.m.-7 p.m.
Tuesday Most nonlivestock 4-H and open exhibits entered, 2 p.m.-7 p.m. All livestock entered, 5 p.m.-7 p.m. Moore's Greater Shows Carnival opening night, 6 p.m.-11 p.m.
Wednesday Petting zoo and pony rides, 1 p.m.-10 p.m. Moore's Greater Shows Carnival bracelet night, 6 p.m.-11 p.m. Draft horse pull, 7 p.m. Cubby Lane & the Secrets concert, 7:30 p.m.-10 p.m.
Thursday Petting zoo, pony rides, 1 p.m.-10 p.m. Antique tractor show, 6 p.m. Moore's Greater Shows Carnival, 6 p.m.-11 p.m. Kelley Hunt concert, 8 p.m. Dairy goat milking contest, 8 p.m. Movie night, 8:30 p.m.
Friday Bale-throwing contest, 6 p.m. Moore's Greater Shows Carnival opening night, 6 p.m.-midnight Demolition Derby, 7:30 p.m. Lawrence Letterday concert, 8 p.m.-10 p.m.
Saturday Turtle race, 9 a.m. Children's activities, 10 a.m. Moore's Greater Shows Carnival, 1 p.m.-11 p.m. Pedal tractor pull, 1 p.m. Joey Glenn concert, 7 p.m.-10 p.m. Hot Rod Tractor and Truck Pull, 7 p.m.
Sunday Awards ceremony, 3 p.m. 4-H livestock auction, 4:30 p.m.
Copyright 2018 The Lawrence Journal-World. All rights reserved. This material may not be published, broadcast, rewritten or redistributed. We strive to uphold our values for every story published.