At times, Nathan Beard admits, the task seems overwhelming.
He's charged with trying to help a small, fundamental Christian denomination in Japan grow its membership base at a time when less than 1 percent of the country is Christian and there's a movement afoot to create Shinto as the only national religion.
"From a human perspective, it seems rather daunting," Beard says. "It can cause discouragement at times if we reflect on how slowly the church grows. But we are hopeful because of the promises in the Bible that Christ will grow his kingdom. We rely on prayer and his purposes and power in our work in Japan. We trust that he will bring success in his time."
Beard, a 1998 graduate of Free State High School, is in the middle of a two-month mission project at five churches near Kobe, Japan, that are affiliated with the Reformed Presbyterian Church. The church has been in Japan for more than 50 years but has only about 350 members.
The 27-year-old Beard graduated from the Reformed Presbyterian Theological Seminary in Pittsburgh in May, and he's the only seminary graduate working at the Japanese churches at the moment. He's spending his time preaching sermons, holding Bible classes for children and students looking to go to seminary, helping with a nursery and doing other tasks.
Shigeru Takiura, the lead pastor at one of the churches, says Beard has a "clear and concise presentation of the message of the Bible."
"Nathan picks up Japanese greetings very quick," Takiura says. "He is friendly, and Japanese children love him much. He serves well in teaching the word of God."
Photo Gallery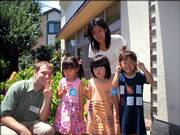 Spreading the Word
Going to Japan was never part of Beard's plans.
It wasn't until he was wrapping up seminary that he got the idea, after two professors mentioned the possibility independently.
"I had not really thought much about going to Japan before that," he says. "I had not studied the language."
He's picking up Japanese, but language still is a barrier.
"It is difficult and sometimes frustrating being with a group of Japanese Christians or a group of Japanese people and not being able to communicate much audibly with them," he says.
Beard's decision to go to Japan didn't surprise his parents, Phil and Eileen Beard of Lawrence.
"I think he's always had that desire since he was young to share his faith," Eileen Beard says.
More than numbers
The Reformed Presbyterian Church of North America was founded in 1743. Among its defining characteristics is members sing only the Psalms and don't use musical instruments in worship.
The "reformed" part of the name refers to beliefs in biblical principles set out during the Protestant Reformation.
The Japan arm of the church was founded in the early 1950s, when Christians facing persecution in China fled to Japan.
Though the denomination remains small in both the United States and in Japan, the Japanese outreach is a well-known ministry within the church, says the Rev. John McFarland, pastor of Lawrence's Christ Covenant Church, 2312 Harvard Road, which is affiliated with the denomination.
"We're not overly consumed with the thought of numbers," McFarland says. "To think there's 350 people who love the Lord and love their country is worthwhile already. But I do think their faithfulness to the Gospel of Jesus Christ will have a powerful influence on the land."
McFarland says Beard is perfectly suited to work in the Japanese culture.
"I think Nathan is a very sensitive young man," McFarland says. "He's not brash. He's not one who would charge into something and offend people. He has a cultural consciousness to sit back and fit in."
National religion?
Beard is in Japan at a time when some in the Japanese government are trying to create Shinto as the official national religion.
According to government statistics, 84 percent of Japanese people observe both Shinto and Buddhism, while only 0.7 percent are Christian.
The Reformed Presbyterian Church has lobbied against creating a national religion, which would bring Shinto into public schools and other public arenas.
"People ought not be forced into something against their will," Beard says. "People should be free to worship as they want. Of course, as Christians, we believe that Jesus is the only true way to God, so this leads us to desire all people to worship him. But I do not believe that people should be forced to worship him."
Even with the demographics and movement toward a national religion, Beard says he doesn't sense Christians in Japan are treated poorly.
"Right now, Christians are pretty well-accepted," he says. "Most Japanese seem to respect other people as long as they are polite and nice."
Future plans
Beard lists eating octopus, playing tag with nursery children and singing Beatles songs with a pastor among his favorite experiences in Japan so far.
He's not sure whether working in Japan is in his long-term plans. He initially planned to teach the Bible at a Christian school for a few years, then become a missionary or pastor. He'll re-evaluate those plans in September, when he returns to the United States.
"I am still praying for Christ's leading and will," he says. "I want to see how things go in Japan before I make a decision. So I came with the idea of widening my world view - I had never been anywhere outside of the U.S. except for Canada - and examining the option of coming to Japan as well as taking the opportunity to serve the people, especially the Reformed Presbyterian church here in Japan."
Copyright 2018 The Lawrence Journal-World. All rights reserved. This material may not be published, broadcast, rewritten or redistributed. We strive to uphold our values for every story published.