RIVER FALLS, WIS. — Willie Roaf says he's retiring and going back to college. The Kansas City Chiefs are holding out hope the 11-time Pro Bowl tackle will return for a 14th season.
The 36-year-old Roaf said Friday that he was retiring, a move that would leave a large hole on the Chiefs offensive line.
Carl Peterson, president and general manager of the Chiefs, said neither he nor coach Herm Edwards had spoken with Roaf in several weeks and they were "leaving the door open."
"Certainly I am aware of what was written," Peterson said Friday, the first day of Kansas City's training camp. "I'd say right now, because of who Willie Roaf is, what he has contributed to the Kansas City Chiefs and what he's contributed to the National Football League, we're going to keep the door open for a while.
"Players do change their mind."
Roaf told the Star for a story posted on its Web site Friday he told Peterson and Edwards of his intentions weeks ago, including in a letter sent to the team.
"I guess they want me to reconsider," Roaf said. "I'm solid on retiring and going back to school."
After the Chiefs went through their first practice Friday in the 90-degree heat of western Wisconsin, Edwards said he would worry only about the players on hand.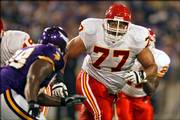 "Whatever Willie decides, Willie has to do," Edwards said. "Right now he says he's retiring. I've heard that before from players, too. Sometimes they change their mind."
The offense struggled last year without Roaf, 36, who missed several games with a hamstring injury. Candidates to replace him include Jordan Black, who backed him up last year, Will Svitek and newcomer Kyle Turley, who missed the last two years with a back injury.
If Roaf does step down, the Chiefs still have guards Will Shields and Brian Waters, the other Pro Bowlers who have anchored one of the league's most productive lines. Also back are center Casey Wiegmann and Pro Bowl tight end Tony Gonzalez.
"We still have our three interior outstanding players, which is still the guts and the core of your offensive line," Peterson said.
Peterson said he was sure money was not the issue. "He has a contract this year for a sizable amount of money, if he comes and plays," he said.
Andre Roaf wiped tears from her eyes when discussing her son's retirement.
"It hurts me to think I'll never see him play again," she told The Associated Press. "I knew something was up. His heart wanted to play but his body was telling him it was over."
Andre Roaf, a state appellate court judge in Arkansas, said it was getting harder and harder for Willie to work the soreness out of his body.
"It used to be Monday or Tuesday, he was OK. Now it's almost time for another game before he's feeling all right," she said.
Peterson also said former Pro Bowl running back Priest Holmes would begin training camp on the physically unable to perform list. Doctors are still evaluating the effects of a spinal injury Holmes sustained last year.
Copyright 2018 The Associated Press. All rights reserved. This material may not be published, broadcast, rewritten or redistributed. We strive to uphold our values for every story published.