Fort Riley — Maj. Gen. Dennis Hardy has watched 42,000 soldiers deploy from Fort Riley in the past three years, most of them bound for Iraq.
This time, he's the one leaving.
Hardy, commanding general of the post and the 24th Infantry Division since May 2003, ends his tenure at Fort Riley on Tuesday with the transition of authority to the 1st Infantry Division. Brig. Gen. Carter Ham will take command of the post.
Ham, who is awaiting promotion to major general, takes over command of the Big Red One from Maj. Gen. Kenneth Hunzeker, who is bringing the division back to Fort Riley after 10 years in Germany.
The division's return has caused a construction boom both on post and in the surrounding areas.
Reflecting upon the preparations for the new division, its soldiers, their families and hundreds of new civilians, Hardy noted the statue of "Old Bill" at the post's Cavalry Parade Field.
"I think of Old Bill, that lone cavalryman up on his horse, in all of those years, that sense of duty and commitment, not just by soldiers today, by all of our armed forces, by our families, by the great civilian work force that we have, not only on this installation, but in our communities," Hardy said.
The war in Iraq has killed 75 Fort Riley soldiers, including 10 Army Reserve and National Guard soldiers - most since Hardy took command of the post.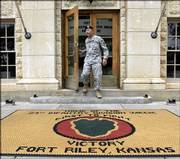 He said soldiers coming back from the war have a sense that they have made conditions a little bit better for the Iraqis.
"Certainly, we're not declaring victory yet. We're probably at halftime in a major Super Bowl, maybe not even at halftime yet, and the score's going back and forth. But, by God, it's a good game," Hardy said.
When the 1st Division is fully in place, the population of Fort Riley will have nearly doubled. Hardy credited state, local and congressional officials with laying the groundwork for the division's return and its influx of people, while at the same time adapting to new missions and activities on the post.
"We're not only an Army at war, we're an Army transforming, as well," Hardy said.
At Fort Riley, the transformation includes establishing lighter units, with parts of brigades that can quickly deploy overseas. The 1st Infantry Division's return from Europe reflects the United States looking to reduce the number of soldiers based outside the country.
While Hardy said soldiers will continue to train units for war, Fort Riley and the 1st Infantry Division will shoulder the duty of training transition teams that will serve as advisers to Iraqi military and police.
Teams of 11 to 15 officers and senior enlisted soldiers will spend yearlong tours serving as advisers to Iraqis, teaching them to take responsibility for their own security.
The first three teams graduated in recent days and are heading overseas. Hardy said eventually 100 teams will be training by October at Fort Riley, which will become one of the main sites for the transition team training.
Hardy's next assignment will be as deputy commanding general of the 3rd Army, as deputy commanding general for a coalition forces command that stretches from East Africa to Pakistan.
About 200 soldiers with the division headquarters will become part of the 1st Infantry, which eventually will have a headquarters staff of close to 900, housed in a new $52 million building.
The 24th Infantry will be deactivated, Hardy said, ending another chapter for a division whose motto is "First to Fight." The division's lineage dates to 1921, when it was activated as the Hawaiian Division at Schofield Barracks there. It was one of the first divisions to fight in World War II.
"Though our gallant division is casing its colors, the accomplishments of our soldiers have left a legacy that is forever etched in the wall of military history," Hardy said.
Copyright 2017 The Associated Press. All rights reserved. This material may not be published, broadcast, rewritten or redistributed. We strive to uphold our values for every story published.