Incoming Kansas University freshmen will never get an opportunity to know what they are missing.
When KU's new Park and Ride system begins Aug. 14, freshmen who live off campus will be required to park in the west campus lot, rather than take their shot at other areas on campus.
"I think that's dumb," said Caroline Andrade, an incoming freshman from Olathe. "I don't understand it at all."
KU staff and others on Tuesday put the finishing touches on the five new buses central to the new Park and Ride system.
The buses will transport riders from the 1,500-space lot northwest of Iowa Street and Clinton Parkway to seven spots on the main campus. The former Park and Ride lot at the Lied Center, served by KU on Wheels, will no longer be used for that purpose. Instead, it will be reserved for visitors to the Lied Center and Dole Institute of Politics and overflow parking for the Daisy Hill residence halls.
"It's the beginning of a shift in the way we think about parking at KU," said Donna Hultine, director of parking and transit. "Hopefully, people will be in that bus frame of mind where they know how convenient this is going to be and they can just plan their day and meetings by figuring out the route and hopping on the bus."
Photo Gallery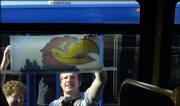 KU Park and Ride
Four buses will follow the roughly 20-minute route, with a fifth bus reserved for backup. The express buses will leave the Park and Ride lot every six minutes during peak times. At other times, the buses will leave every eight to 10 minutes.
It's the best solution to KU's parking woes, said Danny Kaiser, assistant director for parking and transit. The only alternative was building multilevel parking on the main campus.
"That would essentially urbanize the campus," Kaiser said. "It would make it look like a big city as opposed to the open, green, beautiful campus that we have right now."
The new lot cost more than $9 million. The buses cost $1.3 million, supported with $1 million from the Kansas Department of Transportation.
The bus ride is free, but permits for the Park and Ride lot cost $205. KU plans to sell about 1,800 parking permits for the new lot.
New KU west campus parking lot
KU generally oversells parking permits, taking into account that all drivers with permits won't park in their designated areas at the same time.
Thus far, about 350 people have purchased Park and Ride lot permits. Hultine said she thought some staff were passing on the new lot because its permits cost more than the $190 red zone staff permits. Eventually, Hultine said, the Park and Ride permits will be the cheapest on campus.
Karen Cook, a program assistant in the School of Social Welfare, bought a Park and Ride permit. It was either that or taking a chance on finding a red zone spot, she said.
"The parking lot pass is actually a hunting license," she said. "It gives you the opportunity to hunt for a place."
KU plans to promote the new lot and express bus service with signs, fliers and other enticements that are still in the planning process.
But they have one assured group with off-campus freshmen who will be steered to the Park and Ride lot.
"If I was a freshman, I would be irritated," KU senior Mia Mulch said.
KU had to identify some population that would be required to park in the new lot, Kaiser said.
"You would typically start with your newest people as opposed to putting the senior class out there," he said. "Because they're freshmen, they don't have any preconceived notions that something else is better.
"I'm kind of hoping in a few years we won't have to have that rule anymore. People will want to park there."
Copyright 2018 The Lawrence Journal-World. All rights reserved. This material may not be published, broadcast, rewritten or redistributed. We strive to uphold our values for every story published.