It was a long journey for Dylan Adcock to make to Lawrence High basketball camp last week at Lawrence High.
The 13-year-old traveled all the way from Georgia to participate in the camp with his friend Chris Gaston. Adcock moved to Georgia from Lawrence two years ago and has kept in touch with Gaston over their shared interest in basketball. It was only natural the two friends met up again at the camp.
Adcock and Gaston weren't the only pair of friends bridging the distance gap at the five-hour camp. There was also Nanding Cessay and Seyli Ojeleye, who attend different elementary schools across Lawrence (Sunflower and Quail Run, respectively) but came together to share court time as friends. Both girls each have a brother who attended the camp.
"We decided to do the camp because it would be really fun," Cessay said.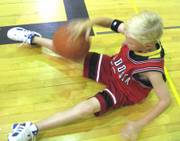 "We want to keep playing basketball into junior high school," Ojeleye added.
Ojeleye, Cessay, Gaston and Adcock were just a fraction of the 45 participants in the section of the camp for older players. Chris Davis, Lawrence High's head basketball coach and camp director, estimated that about another 30 players participated in the younger section of the camp held at Schwegler Elementary School.
Davis runs a tight program. This camp, held from July 17- 21, is one in a series of camps that Davis puts on throughout the summer with LHS. There is also a workout and shooting camp to help players improve their form. The programs have recently been adopted by the National Association of Basketball Coaches.
"Our goals for the camp this year were to improve on the fundamentals, have fun and give the kids ideas of the concepts of how the game is played," Davis said.
Garrett Wagner, 13, is hoping the camp will help him improve his performance on the Southwest Junior High basketball team. Wagner stood under the basket sinking in shot after shot during the camp.
"This camp really helps you work on ball-handling skills," Wagner said.
The LHS camp is one of four that 12-year-old Brianna Anglin participated in this summer. The basketball player from South Junior School also attended Free State and Southwest's camps as well as the LHS shooting and workout camps. Anglin said her favorite part of the camp was the drills each participant did each day. Campers spread out across the gym to do drills like the pretzel, the figure-eight and the mummy. Each player kept track of their sets and drills on their own stat sheets each day to compare at the end of the camp.
"For me personally I just like to try to beat what I had the first day of camp," Anglin said. "I just come to camp to work on getting better at everything, whether it is my offensive of defensive skills."
Meanwhile Davis said his part of the camp was getting to know a whole new crop of young basketball players.
"I tell them to come to games at LHS to get a feel for the game and to say hello," Davis said. "This camp is a really great way to get to know them."
Copyright 2018 The Lawrence Journal-World. All rights reserved. This material may not be published, broadcast, rewritten or redistributed. We strive to uphold our values for every story published.