Former Kansas City Royals stars spread around Arrocha Ballpark on Saturday morning to share their knowledge with future baseball and softball phenoms at the Royals Youth Clinic, sponsored by Hy-Vee.
Although the clinic started at 9 a.m. parents had no problem getting their children out of bed.
"We need to have one of these every morning," said Tonya Campbell, whose son Alex participated in the clinic. "Just have a Royals coach come to our house every morning in the school year and he'd just get right out of bed."
The clinic focused on how players could improve their fundamentals as fielders and pitchers, but former Royals outfielder Les Norman began the clinic with a brief tutorial on hitting for all the campers before they were divided into groups.
Norman loosened campers up with a story about himself learning not to be afraid of getting hit by pitches. He said when he was with the Royals, Cubs pitcher Kerry Wood hit him in the elbow so hard with a fastball that he threw up on home plate. Norman then encouraged campers to remember that there were no insignificant positions on the baseball field not even right field.
"When the Royals drafted me, guess what position they drafted me at," Norman said. "They drafted me as a right fielder."
The campers then stretched and broke up into separate age groups. While campers had to adjust to new pitching and fielding methods taught at the camp, the former Royals had to tweak their teaching styles depending on which age group they were with.
Campers gathered on the pitchers mound, to hear former Royals pitchers Paul Splittorff and Marty Pattin teach the mechanics of pitching. Splittorff began by showing campers how to grip a fastball and gave advice on what age the campers should be before throwing breaking pitches. Pattin then offered a couple throwing drills to help young pitchers improve their throwing mechanics. Splittorff then finished by showing the campers how to use the pitching rubber to get more behind their pitches.
Splittorff and Pattin's message didn't seem to strike the same interest with the youngest age group. By the time their session was up, there were nearly as many campers building dirt castles as there were campers paying attention.
Former Royals catcher John Wathan taught campers at home plate how to grip the ball and use their legs to make strong and accurate throws to get runners out. He also showed the campers how to block balls in the dirt to keep runners from advancing. Some of the age groups Wathan talked to had only a couple catchers, but the catchers who came to the clinic found Wathan's station very helpful.
Alex Campbell said he played catcher and found Wathan's tips on footwork for catchers to be the most useful because he'd never heard them before. Even softball catcher Harley Phelps found Wathan's tips beneficial.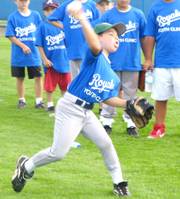 "He taught us a lot about some things that my coach told me to do, but he told me ways to do it differently so it's easier," Phelps said.
In right field, instead of showing campers how to climb the outfield wall to rob a home run, former Royals outfielder Brian McRae worked with campers on fielding ground balls and hitting a target. Camper Alex Craig said McRae's station helped him the most because he plays second base.
McRae kept the campers active at his station, a tactic McRae has learned at clinics to keep young children interested in the message he's trying to convey.
"Don't let them sit too much because their minds will wander," McRae said. "If a few points soak in and you help some kids out, fine. If not, then it was still just a good day to have them out, running around."
Back in left field, Norman worked with campers on being more fundamentally sound outfielders. First, Norman showed the best stance an outfielder should get into before pitches to chase down fly balls faster. Next, Norman told campers that for a quicker delivery back to the infield, it was best to catch a fly ball on the same side of their body as their throwing arm. Then the campers had to put the two skills together and field fly balls from Norman and throw them back.
Once every age group had visited each station, the campers came together to run the bases. As Wathan gave base-running tips, Royals mascot Sluggerrr made a grand entrance from the outfield and ran the bases with the campers.
As if meeting former Royals and Sluggerrr wasn't enough, campers also received clinic t-shirts, autographs from the players, youth-sized wooden bats and vouchers for tickets to a Royals game.
The post-clinic goodies were a reminder to the campers not to take the game too seriously.
"You've got to make it simple and fun," McRae said. "They need to realize this game is not life and death. For this age, just play the game and have fun."
Copyright 2018 The Lawrence Journal-World. All rights reserved. This material may not be published, broadcast, rewritten or redistributed. We strive to uphold our values for every story published.