Something had to give.
Nicole Humphrey had too much going on, and something had to give. That something was soccer. Humpherey was just too busy with soccer and basketball and had to give up one or the other. She chose to stick with basketball and one of the first places she chose to do after her decision, was to attend the Free State High School basketball camp, which ran throughout June and July.
"We've been basketball all summer," Carmela Humphrey, Nicole's mother, said. "It was a major decision for her to quit soccer so she could focus more on basketball."
When Nicole arrived at the camp she soon discovered that of the 60 participants, only three were girls, including herself.
Because of the lopsided boy-to-girl ratio, Humphrey played basketball with the boys throughout the camp.
"It makes me work harder." Humphrey said. "It's going to be a lot rougher than when you're playing with girls."
Humphrey's mother believed the time played with the boys had some dividends.
"It makes her a much stronger player," Carmela Humphrey said.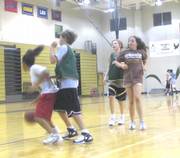 When asked if she likes to play basketball with the boys, Humphrey looked up, smiled and nodded.
Humphrey enjoyed playing with the boys because she said her skills were "pretty even" she thought.
The boys didn't mind playing with the girls, either.
"The girls are good here," camper Brett Frantz said. "So it's just the same as playing with boys."
Nicole paired up with Erika Sander, one of the other three girls at camp, and a boy to play against other three-member teams. Nicole's team won four games in a row. She even hit the game-winning shot not once, but twice. She passed the ball, ran through the lane, caught the ball and made a lay-up, displaying some sound fundamentals.
"She's going to be an outstanding player. She loves to play and take any chance to touch a basketball," Free State basketball coach Chuck Law said. "She just loves to play."
Law said he and Free State girl's basketball coach Brian Duncan came up with the camp idea so the middle school participants, like Nicole, could develop their basketball skills more.
Law said he hoped the high school players became more confident with each other when the season started.
"We're setting expectations of the program here at Free State," Law said.
Aside from the development of skills, the camp also offered the players a chance to get to know the coaches as well.
"I needed to get to know the players at Free State before they walk in the door as sophomores," Law said. "Some players walk into the first practice and I don't know who they are and this is the best way to do it."
Copyright 2018 The Lawrence Journal-World. All rights reserved. This material may not be published, broadcast, rewritten or redistributed. We strive to uphold our values for every story published.