Long Pond, Pa. — Tony Stewart is many things, but the Emily Post of NASCAR etiquette is most certainly not one of them.
Stewart wants to preach a give-and-take attitude on the race track. Yet when it comes time to practice it, NASCAR's champion only wants to take as much as he can get.
He longs for a garage leader like the late Dale Earnhardt, who made it his job to teach cocky, young drivers a thing or two about respect. But instead of stepping up and adopting Earnhardt's approach, the two-time champion wants to be the judge, jury and executioner on the race track.
That's what he was at Pocono Raceway after rookie Clint Bowyer pinched him into the wall early in Sunday's race. After waving a menacing fist out his window, Stewart slid back into Bowyer to start a chain-reaction crash that collected Carl Edwards.
After speaking with Bowyer on Monday, Stewart issued an apology.
"I'm taking 100 percent responsibility for the final incident that occurred on lap 32 between myself, (Bowyer) and (Edwards). It was totally my fault," Stewart said in a statement.
"At the same time, there were circumstances that led up to that wreck, and after talking with Clint this morning, we both have a better understanding as to what happened. I reacted, causing the wreck that I take responsibility for and regret."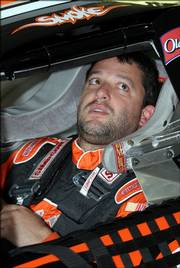 Stewart's action earned him a one-lap aggressive driving penalty, and it almost certainly eliminated Bowyer and Edwards from championship contention. Both drivers were fighting mad after the race, but Bowyer couldn't get close enough to Stewart to do anything and - much to the dismay of garage insiders - Edwards thought better of it.
"If it weren't for the respect of the sport and the people watching and his team, he'd be out there bleeding right now," fumed Edwards, who was also penalized one lap for his retaliatory spin of Stewart.
If there's one thing that's certain, it's that the portly Stewart doesn't want any part of Edwards and the six-pack abs that landed him on the cover of several magazines.
What's not so clear is who and what Stewart is thinking these days.
As the defending Nextel Cup champion, the platform is Stewart's to do and say what he wants, and he has used it repeatedly this season. But his messages are so mixed that he's struggling to keep his audience.
His dire warning at Daytona that someone was going to be killed if NASCAR didn't curb aggressive driving certainly caught everyone's attention, including the sanctioning body, which implemented a policing system.
But Stewart was the first violator of the new guidelines, intentionally crashing into Matt Kenseth during the season-opening race.
He then spent the first quarter of the season feuding with Kyle Busch, whom he accused of being too wild on the race track and tuning out Stewart's veteran's advice.
And just last week, the driver who wants everyone to give-and-take on the race track refused to give Ryan Newman an inch of space to pass him.
So he says one thing, then stubbornly - and often out of anger - does the other.
If Stewart could just stick with one message, and find a consistent way to deliver it, he someday might be able to get his point across.
Until then, he's just a hypocrite.
Copyright 2018 The Associated Press. All rights reserved. This material may not be published, broadcast, rewritten or redistributed. We strive to uphold our values for every story published.