Kansas City, Mo. — In a busy Monday at Kauffman Stadium, the Kansas City Royals sent Mike Sweeney to Burlington for a rehab assignment and traded former All-Star reliever Mike MacDougal to the Chicago White Sox.
In exchange for MacDougal, who has spent virtually the entire year on the disabled list, the Royals get left-hander Tyler Lumsden and right-hander Daniel Cortes, both minor-league starters.
Lumsden will report to
Double-A Wichita, while Cortes joins Sweeney at Single-A Burlington.
Sweeney, a five-time All-Star first baseman/DH and the Royals' only big-time run producer, has been on the disabled list since May 3 due to a bulging disk in his back.
He has been bothered by back trouble for three years and was hitting just .176 with two home runs and six RBIs in 20 games this year. In five of his last seven seasons, he has hit better than .300. His absence has been a key factor in the Royals' getting off to the worst start in their history this year and having a major league-worst 34-64 record.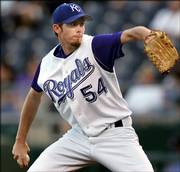 Lumsden, 6-foot-4 and 215 pounds, missed the 2005 season after surgery on his left elbow. He was a sandwich pick by the White Sox in the 2004 draft, the 34th player taken overall. Now 23, he was 9-4 with a 2.69 earned-run average in 20 starts for Double-A Birmingham, allowing 114 hits and 37 earned runs in 123.2 innings. He has 72 strikeouts and 40 walks.
Cortes, 19, was selected in the seventh round of the 2005 draft. He was 3-9 with a 4.10 ERA for Single-A Kannapolis this season, allowing 49 earned runs in 107.2 innings, with 96 strikeouts and 38 walks in 20 starts.
The Royals had hoped that MacDougal, 29, would become their answer to a recurring bullpen problem. When he recorded 27 saves and made the 2003 All-Star team, he appeared to be fulfilling his potential.
But he has made only four appearances this year after going onto the DL during training camp because of a right shoulder strain.
Copyright 2018 The Associated Press. All rights reserved. This material may not be published, broadcast, rewritten or redistributed. We strive to uphold our values for every story published.