Alex Rodriguez is stuck in a slump.
Big one, too.
Right when the New York Yankees are in dire need of steady production.
His throws are wild, swings are late. And now he's back in Texas, where he can always count on a cold reception.
He must be getting used to those.
Playing in the Big Apple with a record $252 million contract, Rodriguez is constantly under the microscope. Every failure is magnified, fodder for the back pages of the city tabloids or talk radio.
A-Rod has been booed at Yankee Stadium nearly all season for failing to come through at the plate. Now, it's his shoddy defense that's frustrating fans and - more importantly - hurting his team.
"I'm working through it," Rodriguez said recently. "It's not easy, that's for sure."
It's almost strange to hear him say something like that. So many things appear to come so easily to A-Rod on a baseball field.
But lately, he can't even make a routine throw to first base.
Or second, for that matter. Or home plate.
The two-time MVP committed five errors in a five-game span last week and led the American League with 18 going into Monday. Not exactly what you'd expect from the most talented all-around player in baseball.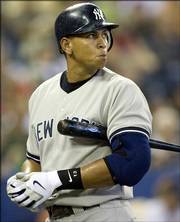 In fact, it got so bad that manager Joe Torre made Rodriguez the designated hitter Saturday in Toronto - even with New York trying to snap a three-game skid.
It didn't help his offense any. Rodriguez went 0-for-4 with four strikeouts, including one with the bases loaded, during New York's 5-4 victory.
He finished 0-for-4 again Sunday in a 13-5 loss and was on a 4-for-27 slide going into Monday night's series opener against the Rangers, his former team. Monday he was 2-for-5 and did not commit an error.
What's wrong with A-Rod? One major flaw is his footwork at third base. But the biggest obstacle is probably in his head.
Rodriguez made a pretty smooth transition from shortstop to third base when he joined the Yankees in 2004. He worked hard that spring to get comfortable and made only 13 errors all season - plus some dazzling plays.
He committed 12 errors last year, and his strong defense was a big reason he beat out Boston designated hitter David Ortiz for AL MVP.
But right now, there's a kink in Rodriguez's footwork.
He drops down, submarine-style, to make his throws across the diamond - something many major league infielders do. It's not how Little League coaches teach you to do it. And it's probably not the way Tom Emanski instructs those AAU kids in that video that's advertised on TV all night.
(Hey, maybe those kids could give A-Rod a few tips).
But it's a style that plenty of big league players have perfected, including Rodriguez.
Usually.
The problem now is that, without proper footwork, his throws are often tailing high and to the right.
"He hasn't had that feel," Torre said.
Watch closely and you can see it. A-Rod is opening up his front shoulder too far and planting his left foot wide of the target, instead of directly toward the target.
Overcompensate, and he hooks his throw too far left.
"It's definitely mechanics," said Rodriguez, a Gold Glove shortstop in Texas. "It really becomes staying on top of the baseball. Pitchers, catchers, everybody does it at some point. You've just got to get your target, get your footwork and stay on top of the baseball."
Copyright 2018 The Associated Press. All rights reserved. This material may not be published, broadcast, rewritten or redistributed. We strive to uphold our values for every story published.