Beirut, Lebanon — The Lebanese prime minister greeted Condoleezza Rice with a kiss on each cheek. But by the time the secretary of state left the war-torn country Monday, it was clear that her hosts were not thrilled by the message she had delivered.
Rice, in a surprise stop in a nation that has become a battlefield for Israel and Hezbollah, told Lebanese leaders that the U.S. would not press Israel for a quick cease-fire without addressing the longer-range threat it faces from Hezbollah guerrillas.
"We're talking about the humanitarian situation," Rice said, visiting a country that has seen hundreds of civilians killed and hundreds of thousands displaced by Israeli bombing. But signaling that the U.S. would not settle for a simple end to the fighting, she added, "And we're also talking about a durable way to end the violence."
In a meeting that appeared tense, Prime Minister Fuad Saniora told Rice that Israel's bombardment had shoved his country "backwards 50 years," Saniora's office said. And Nabih Berri, Lebanon's parliament speaker and Hezbollah's de facto negotiator, rejected proposals brought by Rice almost as soon as she left.
With little diplomatic progress to show for her lightning trip to Beirut, the Bush administration instead focused on the announcement of $30 million in humanitarian aid for Lebanon.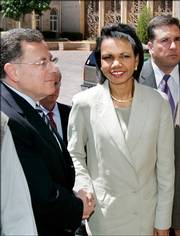 Rice's visit marked the first high-level U.S. diplomatic mission to the area since fighting erupted on July 12, violence that has complicated hopes for peace and democracy in the region. Lebanese leaders had hoped the U.S. would help broker a quick end to the combat.
"Thank you for your courage and steadfastness," Rice told Saniora, who has repeatedly asked for international help in bringing a halt to cross-border Israeli-Hezbollah shelling.
Rice flew next to Jerusalem and again made clear that she would not pressure Israeli leaders for an immediate cease-fire during meetings Monday and today.
"Any peace is going to have to be based on enduring principles, not on temporary solutions," Rice said with Israel's foreign minister, Tzipi Livni, at her side.
Back in Lebanon, Berri told Rice a cease-fire must precede any talks about resolving Hezbollah's presence in Lebanon, an official close to the speaker said.
Rice had proposed that the fighting stop at the same time that an international force deployed in southern Lebanon, the official said. Rice also proposed that Hezbollah weapons be removed from a buffer zone extending about 18 miles from the Israeli border, said the official. He spoke on condition of anonymity because the talks were private.
Berri proposed instead a two-phased plan. First would come a cease-fire and negotiations for a prisoner swap. Then an inter-Lebanese dialogue would work out a solution to the situation in south Lebanon.
Rice said President Bush wanted her to make Lebanon the first stop on her trip to the region. Her aides also sought to put a distinctly U.S. mark on diplomatic efforts. Yet she's offered no solutions publicly to end the violence and reach the long-term solution the U.S. is seeking.
"With this stop now, we - the United States - are firmly in the picture in leading the diplomacy, with the secretary of state doing that job," Assistant Secretary of State David Welch said.
Rice's nearly two-hour meeting with Saniora went on longer than planned. She also met for about 45 minutes with Berri, who is considered friendly to Syria, which held political and military sway in Lebanon for decades before pulling out troops last year.
Going into the session at Berri's lavish office and residence, Rice said: "I am deeply concerned about the Lebanese people and what they are enduring. I am obviously concerned about the humanitarian situation."
Berri is an influential figure in Lebanon's complicated and factionalized political structure. Although the United States considers Hezbollah a terrorist group and has no direct dealings with it, Rice has met with Berri before. Rice could use her discussions with him to send an indirect message to Hezbollah, and to try applying pressure on Syria.
Copyright 2018 The Associated Press. All rights reserved. This material may not be published, broadcast, rewritten or redistributed. We strive to uphold our values for every story published.