Kansas City, Mo. — Seeing the success Texas Tech football has had with a pass-happy spread offense under coach Mike Leach, Baylor coach Guy Morriss felt it was time for a change near the end of last season.
What came of it was a major makeover of Baylor's attack. With new offensive coaches and added involvement by Morriss, the Bears are entering 2006 intent on being potent offensively by passing the daylights out of the pigskin.
"This system is about like falling off a log. It's pretty easy, really," Morriss said at Big 12 Conference media days Monday at the Marriott Country Club Plaza. "It's about knowing where to go with the football. If you got some speed, you can always get away from man coverage. If it's zone, you find a hole and get in it."
Baylor might not be so dramatically lopsided between run and pass like Texas Tech, because Morriss plans on having two tailbacks in the backfield instead of Tech's standard single back.
But Baylor will soon be known as a pass-happy team, and it shouldn't come as a huge surprise. Morriss worked beside Leach when both were assistant coaches at Kentucky, and being division rivals, the two teams see each other on the field and on film plenty.
No transition is immediate, especially when recruiting for a different scheme. The Bears first implemented the spread offense in spring football, except they were almost humorously short on wide receivers to plug in.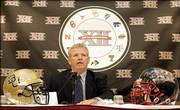 "Anyone who could walk, creep or crawl played receiver this spring," Morriss said.
Morriss is encouraged by five incoming players that can play receiver. That includes David Gettis, a 6-foot-4 freshman out of Los Angeles who was an Army All-American in high school but delayed his enrollment a year because of NCAA Clearinghouse issues. He will contend for Big 12 newcomer of the year honors before going and running track for the Bears in the spring.
"He's going to be a super-impact guy," Morriss said. "We've got to get the ball in his hands."
Most agree Baylor is improving, yet there's still skepticism across the league. Baylor was picked to finish last in the Big 12 South preseason poll voted on by the media, probably more because of reputation than potential.
Many coaches agree such polls don't mean much. But the news still made its way to Morriss, who soaked it in.
"It kind of P.O'ed me to be honest with you," Morriss said. "Everybody's entitled to their opinion, but I don't think we'll end up in the cellar."
¢ First of two visits?: Nebraska coach Bill Callahan on Monday took his three player representatives - quarterback Zac Taylor, defensive end Adam Carriker and cornerback Zackary Bowman - to Arrowhead Stadium, home of this year's Big 12 championship game.
The Huskers were picked to win the Big 12 North by the media, and if that holds true, they'll be back at Arrowhead on Dec. 2 to play the South champion. Monday's trip was a chance for the three players to soak in the atmosphere.
¢ Welcome to the now: The outdated Astroturf at Jones SBC Stadium that made Texas Tech football just as well known as the team's passing attack is no more.
During the offseason, the stadium went from the rock-hard Astroturf that was popular in the 1970s to the more modern FieldTurf that simulates real grass. Now, every Big 12 school either has grass or a realistic replica.
"It was fun," Leach said. "It was fun having a unique deal that other people didn't have. But it will be fun having this new stuff."
¢ Quote of the day: "If you can tell these other guys to spot us a couple of points, I'll play the backup a lot. But the trouble with this conference is that everybody has been fairly stubborn about doing that." - Texas Tech coach Mike Leach, when asked if he'd be more comfortable inserting his backup quarterback into occasional series now compared to past years.
Copyright 2018 The Lawrence Journal-World. All rights reserved. This material may not be published, broadcast, rewritten or redistributed. We strive to uphold our values for every story published.