Kansas City, Mo. — Kansas University's 2006 football media guide was made available for the first time Monday during the Big 12 Conference media days at the Marriott Country Club Plaza.
While the media guide is pretty standard - there's a large KU helmet with a packed Memorial Stadium in the background on the cover - a couple of conceptual images of the Anderson Family Football Complex are shown for the first time inside the front cover.
Construction of the facility, to be located on the southwest corner of Memorial Stadium, is slated to begin in 2007 and be completed in time for the 2008 season. It will be two stories - one above ground, one underground - with two practice fields side-by-side on the southeast side of the stadium. The preliminary design shown in the media guide has student support, meeting rooms, coaches offices and a multipurpose room on the upper level, with sports medicine, locker room, support areas, equipment room and weight room on the below-ground lower level.
¢ Most are in: As previously reported, the only incoming player missing from the latest roster is Florida linebacker Jeremy Terry, who likely is going to be placed at a junior college.
Uniform numbers for the incoming players were passed out, and are: Jake Sharp (1), Tyler Lawrence (17), Xavier Rambo (18), Anthony Webb (20), Phillip Strozier (26), D'Marcus Lang (32), Donte Bean (34), Maxwell Onyegbule (47), Dakota Lewis (51), John Marshall (55), Sal Capra (59), Ian Wolfe (63), Carl Wilson (68), Marc Jones (83), Tertavian Ingram (89), John White (90), Jason Thompson (95) and Jamal Greene (99).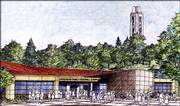 ¢ All accounted for: No major names are missing from the latest roster in the media guide in terms of returning players. Perhaps the biggest is walk-on safety John Kosko, who no longer is with the team.
The only position listing of note is freshman Justin Thornton, who is listed as a safety after seing time at both cornerback and wide receiver on the scout team last year.
¢ Texas LB commits: Kansas gained another oral commitment for its 2007 recruiting class in Drew Dudley, a 6-foot-2, 212-pound linebacker out of College Station, Texas.
According to rivals.com, Dudley picked KU over Oklahoma State, Baylor and Tulsa.
¢ Up next: Kansas coach Mark Mangino and three players - Derek Fine, David Ochoa and James McClinton - will speak with the media starting at 9 a.m. today during the second session of Big 12 media days. Kansas will be followed by Texas, Oklahoma State and Colorado.
Copyright 2018 The Lawrence Journal-World. All rights reserved. This material may not be published, broadcast, rewritten or redistributed. We strive to uphold our values for every story published.