Hoylake, England — Jack Nicklaus might have been right about Tiger Woods, even if he was looking at the wrong place.
Nicklaus cranked up the hype about Woods on the eve of the 1996 Masters, after he and Arnold Palmer played a practice round with the 20-year-old amateur. Nicklaus called him "absolutely the most fundamentally sound golfer that I've seen at almost any age."
Combine the Masters victories of those two legends - that's 10 green jackets - and Nicklaus said the kid should win more than that.
But imagine if that practice round had been in 1995 at St. Andrews instead of a year later at Augusta National.
The conversation might have been different.
"This kid is absolutely the most creative shotmaker that I've seen at almost any age," Nicklaus might have said. "Take my three British Opens and the five won by Tom Watson, and he should win more than that."
It could happen.
By the end of his career, Woods might be identified more by the silver claret jug than the green jacket.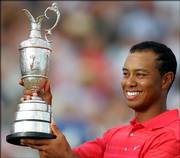 The Masters was thought to be Woods' domain ever since he set the course record (18-under 270) and won by a record 12 shots in 1997. Woods now has four green jackets, not quite halfway there to Nicklaus' prediction.
Augusta National is all about power, and Woods no longer holds exclusive rights in this game.
The British Open is about imagination, and he showed Sunday at Royal Liverpool he has no peer.
Woods was whisked away to the clubhouse late in the evening to sip champagne with the Royal & Ancient, where he regaled committee members with the shots he played - only one of them with a driver out of his 270 strokes - on his way to a two-shot victory over Chris DiMarco.
In his previous tournament, a tie for second at the Western Open, Woods had what swing coach Hank Haney described as his best week with the driver in five years. But after one trip around the firm, fast links of Hoylake, Woods realized he was better off playing it safe.
The course measured 7,258 yards, but it felt like 6,000 yards because of the crusty conditions.
Even though he easily could have taken the bunkers out of play by blasting driver over them, Woods continually laid far back by hitting iron off the tee, leaving him long irons into the green. He reasoned that, even with a shorter iron, getting close to the pin was no bargain.
It paid off so many times over four days.
On the second hole Sunday, he hit iron off the tee and played his second shot to about 25 feet. Sergio Garcia hit a driver over the bunkers and had only a flip sand wedge to the green, but he could get it no closer than 30 feet.
Ernie Els found out what can happen with a driver, hitting into a gorse bush Saturday on the seventh hole. Garcia found a bunker on the par-5 fifth hole Sunday that made him scramble for par. Woods played back with a 3-wood, then hit 5-iron into 25 feet for eagle.
"One of the most fascinating things of the week was to see the different strategies employed by different players," R&A; chief executive Peter Dawson said Monday morning. "The vast majority of players hit far more drivers than Tiger did. He chose to play his way, and it actually resulted in him playing a longer golf course than he does most weeks.
"Tiger found the way to suit his game."
Woods now has three claret jugs, halfway home to the record six by Harry Vardon, one less than his collection of green jackets.
But a closer look at the record, and the constantly changing course at Augusta National, makes it even more likely that the British Open might prove to be his best major.
He has finished out of the top 10 only three times at the British Open, and one of those was at Muirfield in 2002 when he was two shots behind until getting caught in the whipping wind that sent him to an 81.
He will go for his third straight British Open - Peter Thomson in 1954-56 was the last player to do that - next year at Carnoustie, reputed to be the toughest links course in the world. Woods probably won't be able to leave driver in the bag.
But odds are, he'll find another way.
Copyright 2018 The Associated Press. All rights reserved. This material may not be published, broadcast, rewritten or redistributed. We strive to uphold our values for every story published.